If you want the most efficient tires for the F150, then continue reading about our study to see what we found as the best F150 tires for fuel economy.
The F150 is generally an efficient truck for its size and capability, averaging around 18 to 20 miles per gallon (MPG).
But, some owners have been looking for ways to maximize their fuel efficiency (and minimize their costs).
There have been several tire companies that have developed some advanced tread designs and compounds that make their tires more efficient than a standard set of rubber.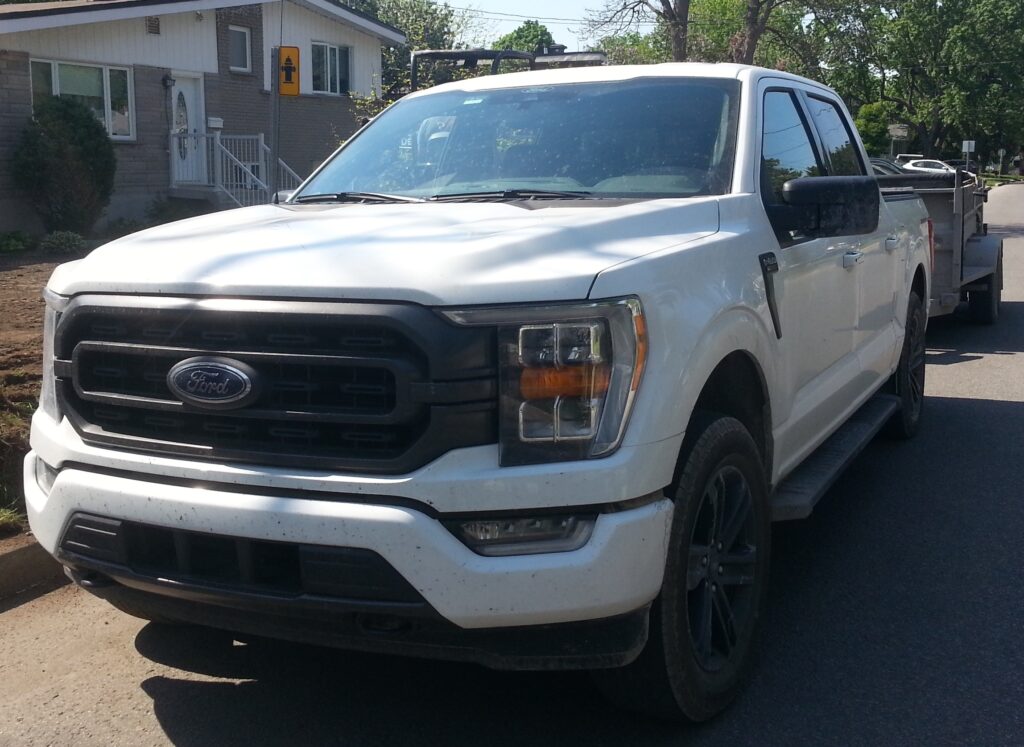 In fact, there are real-world customer reports of fuel savings of up to 10-15% just from upgrading their tires alone.
So, we looked for the best F150 tires for fuel economy optimizers that also offer excellent performance and a long tread life so that you can enjoy all-around performance while still saving some money at the pump.
We found that the ideal combination to save the most fuel for an F150 was a highway tire (as opposed to an all-terrain tire) that was designed with low rolling resistance.
Another major factor we determined is weight. The easiest way to save fuel based on tires and wheels is to downsize your rims. The most common switch that F150 owners make to save fuel is usually to go to 17 inch wheels, which are the stock rim size of most modern base-trim F150s.
But, you can still save some gas if you have the larger 19 or 20 inch rims just by switching tires as well.
So, let's see what the best tires for fuel economy for the F150 are.
Please be aware that some of the links mentioned in this article are affiliate links, which means that we will get a small commission if you make a purchase through those links, but it will be no extra cost to you. Thanks for your support!
We also compared every online tire seller and found that Tire Rack consistently offers the best prices & free shipping (even directly to your installer). They also include:
• FREE 2 year Road Hazard Protection with no-cost roadside assistance
• Tire Replacement Benefit to reimburse you 100% of the price of a damaged tire up to $599 per tire
• Flat Tire Repair Coverage up to $40 per tire
• Mobile Tire Installation Service that can come to your house
• Fast shipping usually in 1 to 2 business days

We've never seen a more generous benefits package from any other retailer, so we added a link to Tire Rack for each tire below.
The 4 Best F150 Tires for Fuel Economy
Fits on: 17 inches, 18 inches, 20 inches
We found that these Michelins are the most fuel efficient tires for the Ford F150 on the market today.
Motor Trend agrees, as their in-depth test of these tires revealed an impressive 5-10% improvement in their fuel economy compared to their stock tires.
They are part of the Michelin Total Performance line, which is their eco-focused offering, and also feature Michelin's proprietary "Evertread" compound.
Yet, they still perform exceedingly well. In fact, they captured 1st place out of 54 "Highway All-Season Tires" in Tire Rack's latest customer survey.
Michelin even offers a long 6 year / 50,000 to 70,000 mile treadwear warranty depending on the speed rating of the tire you choose.
---
Fits on: 20 inches
These Bridgestones are a great alternative for F150 owners with 20 inch wheels looking for a fuel efficient tire.
They were developed as part of Bridgestone's eco-line and were designed with a lower rolling resistance than their standard tire.
They also are a well-rounded tire that can perform in all seasons, earning 10th place out of 49 "Crossover/SUV Touring All-Season Tires" in Tire Rack's survey.
Bridgestone includes a massive 5 Years / 55,000 to 80,000 Mile treadwear warranty based on the type of speed rating you choose as well.
---
Fits on: 18 inches
These Michelins are ideal for 18 inch wheels on the F150, but they are really only for F150 owners who care only about fuel efficiency and little else.
They were designed as part of Michelin Total Performance's line with a low rolling resistance tread and ranked 23rd out of 54 "Highway All-Season Tires" in Tire Rack's survey.
They also earned an 8.6 for their dry weather performance and an 8.8 for their overall comfort.
But, we think that our #1 pick, the Michelin Defender LTX M/S, is a more well-rounded tire while still delivering excellent fuel economy.
Still, Michelin provides a robust 6 Year / 40,000 to 55,000 Mile treadwear warranty based on the speed rating of the tire.
---
Best F150 Tires for Fuel Economy – Summary
We believe that these three tires represent the top options to improve your F150's fuel economy.
They offer the latest technology to optimize the efficiency of the tread and compound, yet still deliver top-tier performance and a long tread life.