Car News & Advice Tailored Certainly For You
Certainly Cars is the pioneer of digital car reviews and advice.

Our staff is passionate about all things cars and our mission is to provide the finest digital resource for the latest car reviews, original, long-form stories about our automotive experiences, and insight and guidance on automotive accessories and gear.

We take a look into the past, present, and future of the automotive industry and deliver our expert opinions on trends and innovations for drivers worldwide. We also ensure that our articles and stories are thoroughly researched and cover all aspects that car owners and enthusiasts care about.

Certainly Cars represents a trusted voice in automotive journalism and online media and always strives to provide fair, balanced, and insightful guidance to all our readers. Our ultimate aim is to support your passion for cars as it reflects our own core interests.
Managing Editor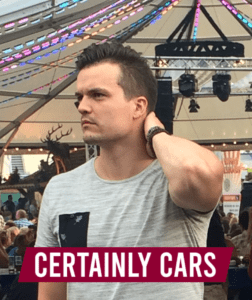 Tim Prescott is the Managing Editor of Certainly Cars.
His dream garage includes a Chevrolet Corvette C8 Z06, BMW M5 CS, Ferrari F430 Scuderia, and Porsche 911 991.2 GT3 RS.
Partnership and Opportunities
If you are interested in becoming a partner of Certainly Cars, please do not hesitate to contact us.

We are eager to define new opportunities and collaborate with members of the automotive sector as well as adjacent industries and segments.