We determined the best highway tires for Tacoma owners who are looking for a comfortable and durable road tire when they are not out slinging mud off-road.
The Taco is one of the most versatile pickups in the industry and is capable on long stretches of highways when they are equipped with the right set of tires.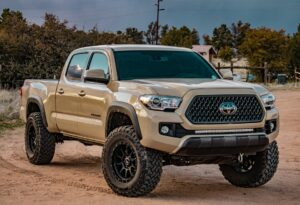 For those looking to replace their OEM tires with a new set primarily for highway driving, we focused on key attributes such as tread life, ride comfort, and handling to narrow our field of choices.
We also cross-referenced our options with real-world reviews from actual owners and Tacoma-specific forums and message boards like Tacoma World.
So, let's see what the data and reviews say are the best highway tires for Tacoma drivers.
Please be aware that some of the links mentioned in this article are affiliate links, which means that we will get a small commission if you make a purchase through those links, but it will be no extra cost to you. Thanks for your support!
We also compared every online tire seller and found that Tire Rack consistently offers the best prices & free shipping (even directly to your installer). They also include:
• FREE 2 year Road Hazard Protection with no-cost roadside assistance
• Tire Replacement Benefit to reimburse you 100% of the price of a damaged tire up to $599 per tire
• Flat Tire Repair Coverage up to $40 per tire
• Mobile Tire Installation Service that can come to your house
• Fast shipping usually in 1 to 2 business days

We've never seen a more generous benefits package from any other retailer, so we added a link to Tire Rack for each tire below.
The 5 Best Highway Tires for Tacoma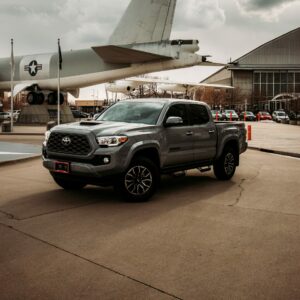 *Please confirm the fit of these tire recommendations on your Tacoma before placing your order as some of these options may not fit every Tacoma, especially older models with smaller wheels.
The Michelin Defender LTX M/S tires are one of the best choices for those who spend a lot of time driving on the freeway. Most of the boys down at Tacoma World also agree that it is one of the finest highway tires for the Tacoma.
They were developed specifically to provide a long tread life and also offer all-season capabilities.
Additionally, they were rated above a 9.0 for both their dry and wet performance in the latest 2022 customer survey and also scored a 9.2 for their ride quality.
---
These Firestones were ranked as the best all-season highway tire out of 48 other competitors in the 2022 customer survey and are available in many sizes, making them one of the best highway tires for Tacoma owners out there.
They were engineered with light trucks and SUVs in mind that spend a lot of time on the freeway and offer superior longevity and are capable in every season.
They also earned the highest rating for ride quality and noise out of any highway tire on the market.
---
These highway tires from Continental are a great option for those looking for a durable on-road tire that is designed for long-lasting tread wear and strong all-season performance.
They were developed specifically for pickup trucks and SUVs and were even ranked 3rd in the 2022 customer survey of all highway tires.
---
The Crugen HT51s are another top alternative to consider to rack up highway miles on. They are very well-liked by consumers, who say they rival the Defender LTX M/S in overall performance.
They also ranked 4th on the latest customer survey of the best highway tires, with strong scores for their wet and dry performance as well as one of the top marks for overall comfort.
---
Don't let the General's price point fool you, as these highway tires are plenty capable for every season and are one of the best value-based tires on the market for the Tacoma.
They were engineered with treadwear and durability in mind and also feature a quiet, smooth ride that has been regarded as being as good as the top of the class.
They were ranked in the top 20 out of all grand touring all-season tires, which is quite impressive given their price and makes them one of the best highway tires for Tacoma owners who want to stick to a budget.
---
Best Highway Tires for Tacoma – Summary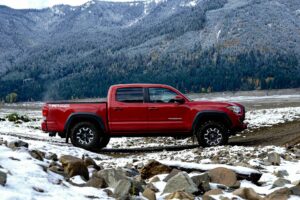 We hope that this list of the best highway tires for Tacoma models has given you the right details to make the switch to your next set of rubber.
There really isn't a wrong choice here, as these highway-focused tires will give you thousands of smooth and worry-free miles on the freeway.
Articles You Might Also Like