We researched the 6 best tires for 2012 Honda Accord owners who are looking for better performance and durability compared to the original OEM tires.
All of our choices offer the right blend of strong dry and wet traction as well as improved road comfort so that you can get a better bang for your buck.
We also made sure to find options for every budget, ranging from premium brands like Michelin and Pirelli to some budget friendly choices that still provide excellent performance.
You bought an Accord because you wanted something dependable and long-lasting, so your tires should perform just the same. Therefore, let's see what the best tires for 2012 Honda Accord drivers are.
Please be aware that some of the links mentioned in this article are affiliate links, which means that we will get a small commission if you make a purchase through those links, but it will be no extra cost to you. Thanks for your support!
Best Tires for 2012 Honda Accord – Methodology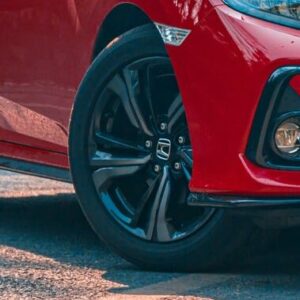 To determine what the best tires for 2012 Honda Accord sedans and coupes are, we needed to understand what was offered from the factory in 2012 so that we know what to compare against.
Most Accords from 2012 came equipped with either Michelin Pilot HX MXM4 tires or Dunlop SP Sport 7000s. Both tires have not been reviewed very well, with the Michelins coming in 46th place out of 56 all-season touring tires and the Dunlops placing in 9th out of 13 performance all-season tires.
The main criticisms for these tires are their poor performance in wintery conditions and their below-average comfort, especially with road noise.
Therefore, we looked for tires that could perform well in all types of weather and could also deliver a smooth, quiet ride so that you can actually relax while driving your Accord.
We also looked for tires that could fit all Accord models and trims so that you don't have to worry about the right fitment. Here are the tire sizes for each type of 2012 Accord just in case you are curious:
Accord Sedan EX: 225/50-17
Accord Sedan LX: 215/60-16
Accord Sedan SE: 215/60-16
Accord Coupe EX: 225/50-17
Accord Coupe LX: 225/50-17
Every tire that we have chosen below can fit all of these models and variants.
We also compared every online tire seller and found that Tire Rack consistently offers the best prices & free shipping (even directly to your installer). They also include:
• FREE 2 year Road Hazard Protection with no-cost roadside assistance
• Tire Replacement Benefit to reimburse you 100% of the price of a damaged tire up to $599 per tire
• Flat Tire Repair Coverage up to $40 per tire
• Mobile Tire Installation Service that can come to your house
• Fast shipping usually in 1 to 2 business days

We've never seen a more generous benefits package from any other retailer, so we added a link to Tire Rack for each tire below.
6 Best Tires for 2012 Honda Accord
We think that the Michelin CrossClimate2 tires are one of the best tires for 2012 Honda Accord owners. It not only performs extremely well in every environment, but it also delivers superior road comfort.
Michelin engineered these tires with their Noise Reduction Tuning system that helped them model an advanced tread pattern, which makes these tires very quiet and very capable.
It even captured 1st place out of 56 all-season touring tires, making it a sure bet for the 2012 Accord as well.
---
Pirelli's newest version of the Cinturato tire has been designed with an updated tread compound that enhances the tire's performance in wet conditions while also providing a cushy ride quality.
These tires ranked 3rd out of 56 all-season tires in the latest customer survey and actually scored the highest on dry performance out of any tire in its class.
---
The Goodyears come loaded with the latest design technology that is sure to make them a durable and high performing tire for your 2012 Accord.
It features "3D Technology Blades" that help them perform better in wet conditions. It also has a unique design called "Evolving Traction Grooves" that actually maintains the tire's performance as it wears down.
---
The Firestone WeatherGrip is a great all-around tire that can be used in all seasons and even in light snow. It's proprietary "Hydro-Grip Technology Package" gives it excellent grip in inclement weather.
It even received the 2nd highest score for winter and snowy performance out of the 56 tires in its class that have been reviewed in the latest customer survey.
---
This European brand may not be so well known in America, but they certainly know how to make a quality tire. These all-season tires actually captured 2nd place out of 56 all-season touring tires, showing that its lower price does not hinder its performance at all.
In fact, it joins the Michelin CrossClimate2s as the only tires to score a 9.0 or better in every category, including wet, dry, snow, comfort, and treadwear.
---
These are also a great value tire for Accord owners who don't want to spend a ton, but still want solid performance and a smooth ride.
It ranked better than many premium brands like Bridgestone and Continental, yet is easier on the wallet for budget conscious Accord owners.
Its unique Low Surface Abrasion Technology ensures that tread wear is kept even to help promote a longer tread life.
---
Best Tires for 2012 Honda Accord – Summary
We spend many hours compiling the data and reviews on all tires to find the best tires for 2012 Honda Accord owners. We are confident that all of the choices above will deliver strong performance, ride comfort, and longevity that will make driving your Accord even more enjoyable.
Articles You Might Also Like