If you are wondering, "is a Hellcat a good first car?" then read through our detailed assessment where we evaluate both sides of the argument.
Basically, the answer is that it depends on several factors, which include the driver's experience, budget, and ability to exercise self-control.
We looked through all the data and owner stories to determine the case for and against the Hellcat as a good first car.
We understand that every situation is unique, but we hope that these guidelines can give you some insight into what it really means to own a Hellcat.
So, let's try to answer the question of whether or not the Hellcat is a good first car.
Please note that the ideas in this article are solely the opinion of the writer and should not constitute a replacement for exercising your own personal judgment for your own situation. Certainly Cars is not responsible for the actions of our users.
Is a Hellcat a Good First Car? Reasons Why It Is Not
Too Much Power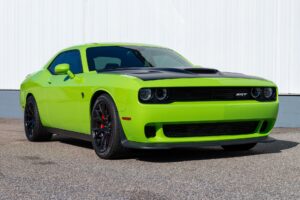 This first point is an easy one. It is well known that the Hellcat is one of the most powerful performance cars on the market today. It exists as both the Dodge Charger SRT Hellcat sedan as well as the Dodge Challenger SRT Hellcat coupe.
Both of these models share the insane 707 horsepower, 605 lb-ft of torque 6.2 liter Hemi V8.
There's even the Hellcat Redeye, which sports an even crazier 797 horsepower engine that can take you from 0-60 in 3.4 seconds.
To put that amount of power in perspective, the Hellcat and Hellcat Redeye have more horses than a Ferrari 458, Lamborghini Aventador, BMW M5 CS, or Porsche 911 Turbo S.
Additionally, all of that power is routed to the rear wheels, which may make it even trickier for an inexperienced driver to handle.
Even the most skilled drivers would have trouble managing this much power, let alone a first time driver.
High Costs
Another reason why a Hellcat may not be a suitable choice for your first car is due to the significant costs related to running one. Of course, there is the initial purchase price. A new Hellcat is priced around the $65,000 mark, although you can get a used Hellcat for about $50,000.
But, there are more costs to consider. For instance, you will need car insurance, which may also not be so easy to obtain for a first-time driver with this car.
The average annual cost to insure a Hellcat is about $5,500 a year, which is about $450 a month. Of course, your rates will depend on your age, driving record, and also whether you plan to drive it everyday or just on the weekends or for track events.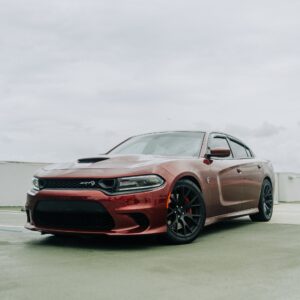 Similarly, there is the cost for gas. The Hellcat's V8 is extremely thirsty. It's listed as getting 13 mpg in the city and about 22 mpg on the highway.
If you drove 12,000 miles a year, that would come out to about $9,000 a year based on gas that costs $3.00 a gallon.
That comes out to almost $15,000 a year just on gas and insurance. That doesn't account for any maintenance or repairs, either.
There is also the constant cost for new tires since the Hellcat is known to eat through rubber.
Therefore, unless money was truly no object, the Hellcat would not be a good first car for those looking to save some cash.
Poor Performance in the Snow
The Hellcat is generally not known as being a great car to pilot in the snow. Even with snow tires, a rear-wheel, 700+ horsepower car is not really suited for the slippery stuff.
If you live in a state that gets more than just a dusting of snow, you may want to reconsider your choice.
Is a Hellcat a Good First Car? Reasons Why It Is
Performance Driving Can Be Learned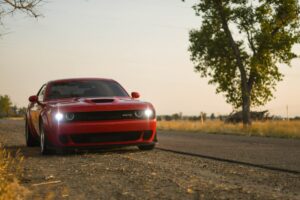 Now, we switch to some of the reasons why the Hellcat could be a good first car. The first reason is that you can learn to harness the power of a Hellcat through the right training.
There are numerous high performance driving schools that can teach you everything about car control in a monitored environment. Before you even step foot in a Hellcat, you can learn about how to handle a sports car with precision and practice different scenarios so that you are better equipped to handle one in the real world.
In fact, Dodge even offers a free course through the Radford Racing School to all Hellcat owners who purchase the car new.
If you buy one used, there are other schools that are dedicated specifically to teaching you how to drive a Hellcat and other muscle cars as well.
While we agree that a high performance driving school is not an exact replacement for real world experience, we think that it is a helpful way for someone to learn and build their confidence towards driving a Hellcat.
You Can't Reason Away Your Passion
At the end of the day, if you really want a Hellcat and it is truly your passion to own one and drive one, then that may be enough to make the decision for you.
In the automotive world, regrets of what could have been have the ability to cut deeper than a bad choice or a compromise.
If you have the budget and obtain the proper training to tame this beast, then the Hellcat can be a reasonable choice for your first car.
Is a Hellcat a Good First Car? Summary
Overall, a Hellcat could be a good first car for a mature driver who realizes that they need to develop their education and experience to properly drive a car with 700+ horsepower.
There is also the issue of the gas and insurance costs that need to be factored in on top of the purchase price.
If you budget enough money and time to practice driving high performance cars, then the Hellcat can fit your needs.
However, if you have overlooked the Hellcat's total cost of ownership and don't plan on taking any driving courses, then we would not recommend the Hellcat as a first car.
Don't forget, there are other options from Dodge that offer plenty of power for less money, including the Challenger and Charger GT, R/T, and Scat Pack. All of those models are $20,000 or more less than the Hellcat and still offer at least 300 horsepower.