"Should I buy a Range Rover with over 100k miles?" Despite all the advice that we've seen from dealerships saying that it's a good idea, our opinion is no.
We think that Range Rovers are fantastic SUVs when new, but once they start getting close to the 100k mile mark, things start to break down and repairs can get quite expensive.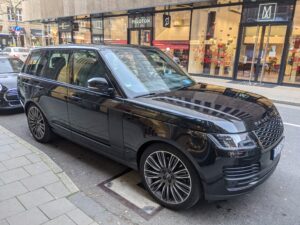 Of course, that is true for any older car, but somehow the costs to repair older Range Rovers are significantly more than the average car, which we will detail later on.
Even if you budget properly, we don't recommend buying a Range Rover with over 100k miles since there are plenty of other, more practical alternatives out there in the same price range.
In this article, we will back up our recommendation to stay away from used Range Rovers with over 100k miles with specific details of their problem areas and the cost to repair them.
Then, you can determine if it is the right decision for you or not.
Should I Buy a Range Rover With Over 100k Miles? The Good News
On paper, we can understand why a used Range Rover that is around the 100k mile mark is an intriguing purchase. Currently, the price for a second generation Range Rover from 1994 to 2002 is about $20,000 to $25,000.
Meanwhile, there are a ton of third generation Range Rovers that were built from 2003 to 2012 that have over 100,000 miles that are selling for under $10,000. The lowest we've seen is actually $7,000.
That seems like a great deal considering that a new Range Rover from this generation started around $70,000, which is about $105,000 today. That is roughly a 90% discount for a high-end SUV that will still turn heads.
Fourth generation Range Rovers with over 100k miles are also now dipping below the $20k mark, especially the entry-level Range Rover Evoque models.
Meanwhile, we know that Range Rovers come packed with a lot of sophisticated, industry-leading technologies. There are technical things like advanced air suspension systems as well as luxury touches like refrigerators in the arm rests that make the Range Rover a great value when new.
Should I Buy a Range Rover With Over 100k Miles? The Bad News
While all of these technologies may sound nice, Range Rover's parent company, Land Rover, has not had the best reputation for reliability and therefore, many of these items have been known to break down over time.
JD Power and Consumer Reports have routinely ranked Land Rover as one of the least reliable car manufacturers in their annual quality reports.
In fact, JD Power has recently ranked Land Rover in last place as a result of generating the most number of owner complaints.
While a normal brand with uncomplicated engineering may have reasonable repair costs, a Range Rover's repair bill for their high-tech cars can get expensive quickly.
Should I Buy a Range Rover With Over 100k Miles? The Ugly News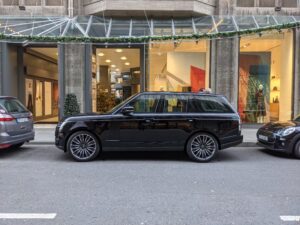 To illustrate exactly what problems can occur and how much it costs to repair them, we will focus our example on the third generation Range Rover from 2003 to 2012, which also happens to be the cheapest version on the market today.
These Range Rovers are known to have numerous problematic areas, which include:
Failing air suspension system
Transmission issues
Malfunctioning on-board computer
Broken water pump
Inaccurate fuel gauge
The air suspension failure is a common problem that can be noticed because the SUV starts to sag to one side. The cost to repair this issue is commonly noted by actual owners as $5,000 to $8,000.
Meanwhile, a transmission failure would cost about $8,000 to $10,000 to fix.
Range Rovers that come close to 100,000 miles would likely be more susceptible to these issues as they would materialize after enough usage.
Auto journalist Doug Demuro famously tracked all the issues he encountered during his 6 year ownership of a used 2006 Range Rover. He bought it in 2012 for $26,998 from Carmax and also purchased an extended warranty for $3,699.
Over the 6 years, he used the warranty to claim $21,200 worth of repairs.
Thankfully, he had the extended warranty or else he would have had to fork over almost his entire purchase price just on repairs.
Now, you can understand why this generation of Range Rovers are being sold for so cheap. Their prices have hit rock bottom, but their repair costs remain the same. It would not be uncommon for a new owner to pay $10,000 for a used Range Rover only to spend about the same amount to keep it running.
We cannot think of any other car on the market that costs as much to repair and maintain as its purchase price.
Therefore, we cannot recommend buying a used Range Rover, especially one with over 100,000 miles.
Should I Buy a Range Rover With Over 100k Miles? What to Buy Instead
We think that there are several better full-size luxury SUV alternatives to a Range Rover that will not cost you an arm and a leg to keep on the road.
Lexus LX470
There are many Lexus LX470s that are on sale with well over 200,000 miles and we think that they still represent a better value than a cheaper Range Rover.
Mercedes-Benz GL
The original GL from 2006 was the S-Class of the Mercedes SUV lineup and still offers dependable luxury today.
Cadillac Escalade
We think that the 2nd and 3rd generation Escalades from 2001 to 2014 represent a better value than a used Range Rover. They are easier to maintain given that it sits on the same platform GM used for the Tahoe, Suburban, and Yukon.
Summary
If you are still asking yourself, "should I buy a Range Rover with over 100k miles?", we hope the answer is clear to you that they cost a significant amount of money to maintain.
If money is not your primary concern and you are still interested in picking up a Range Rover, we recommend that you run it through a thorough pre-purchase inspection (PPI) at a qualified Land Rover dealer or independent shop so that you know the exact condition of the car and what problems may be upcoming.
Who knows, maybe you get lucky and the previous owner has already fixed many of the major issues.
Otherwise, we would steer clear of any used Range Rovers, especially one with over 100k miles.
Articles You Might Also Like