2008 was a banner year for luxury sports car enthusiasts. Each brand's performance division featured a new (or newish) sports sedan that were faster than ever and also looked great. But, how have they aged since then and what is the best choice in 2022?
The compact luxury sports car market has always been heavily competitive since the late 1980s and early 1990s, when BMW and Mercedes-Benz introduced their M and AMG cars, respectively.
For 2008, Lexus joined the party by debuting the first car from their "F" performance lineup, the IS F. Of course, the Germans continued with the production of their legendary performance cars, with BMW rolling out the 4th generation E90/E92 M3 in 2007 and Mercedes-Benz countering with the C63 AMG in 2008.
These fierce competitors set up one of the greatest showdowns in automotive history, with virtually every car magazine pitting them up against each other (among other heavyweights in this class).
This classic comparison yielded several different conclusions, which we will go over later.
But, what we really want to know now in 2022 is which of these powerhouses was actually the right choice in 2008 considering their reliability and depreciation. We also want to determine which car would be the best one to go with today, 14 years later.
Background
The top 3 contenders we will evaluate today are the BMW M3, Lexus IS F and Mercedes-Benz C63 AMG.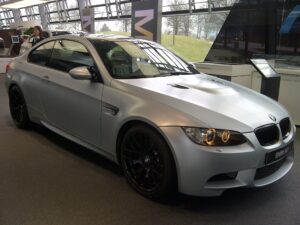 The 4th generation M3 was the first and only M3 that was outfitted with a V8 engine. This monstrous power plant put out 414 horsepower and 295 lb-ft of torque and this car is still considered one of the best M3s to ever wear the badge. It was also the lightest car in the group, coming in at only 3,652 pounds. The base price of a 2008 M3 was $55,875 and options usually brought it up to around $60,000 to $65,000.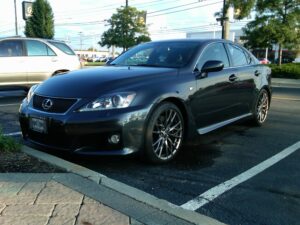 The 1st generation Lexus IS F was characterized by a large bulge in its hood, which was needed to fit a 5.0 liter, 417 horsepower V8 that also made 371 lb-ft of torque. It also featured unique, quad stacked tailpipes that gave it a distinct look. The IS F's weight was right in between the two Germans, weighing 3,817 pounds. A new 2008 IS F cost $56,765 and about $60,000 to $65,000 with options.
The 3rd generation Mercedes-Benz C-Class AMG was the first with the "63" moniker, which was named after its 6.2 liter, 451 horsepower V8 that made 443 lb-ft of torque. It was clearly the most powerful car of the group, but also the heaviest, weighing in at 4,004 pounds. A new 2008 C63 could be had for $56,925, which was also the highest base price of this group. An optioned C63 usually went for about $60,000 to $65,000.
2008 Comparison Results
Back in 2008, every major publication lined these cars up in some form or fashion for a comparison test and came out with several different conclusions.
For example, Motor Trend gave the M3 first place, C63 2nd place, and the IS F 3rd place.
Meanwhile, the December 2007 Car and Driver issue pitted the M3 and C63 against the Audi RS4. The C63 claimed 2nd place and the M3 captured 1st place.
Car and Driver then put the IS F head-to-head against the M3 in its May 2008 issue, with the M3 coming out ahead again.
Australian car magazine Motor put all three against each other and concluded with a 1st place tie between the M3 and C63.
Finally, the UK magazine evo made a head-to-head test between the C63 and M3 and declared the M3 the more well-rounded car.
Overall, it was clear that the M3 was the true driver's car, with telepathic instincts and the best overall feel. The C63 was noted for its rocket-like speed, but fell short of the M3 in pure handling and driving feel.
Meanwhile, reviewers commented that the IS F was a good first entry into the performance car market by Lexus, but it still needed a generation or two to truly evolve and match the stallions from Germany.
The Right Choice with Hindsight – M3 vs C63 vs IS F
Now, we take a look at the best choice among the three vehicles now that 14 years have past and we have more than a decade of owner experiences and reliability measures. We also know their exact depreciation rates since we know how much each car can be bought for now.
We looked at the current used car market and searched for examples of each car that were in good condition and with less than 100,000 miles.
A used 2008 BMW M3 can be purchased for about $21,000 to $26,000 in today's market. That comes out to a depreciation of about 63%, or about a $40,000 loss.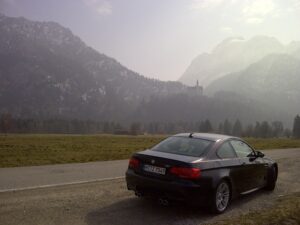 You can get a used 2008 IS F for about $29,000 to $34,000. Its depreciation rate is about 49%, losing about $31,000 over 14 years.
The 2008 Mercedes-Benz C63 AMG is now priced around $24,000 to $29,000. That depreciation rate comes out to 57%, which is about $36,000.
For maintenance and repairs, we will use the current 2022 models as a proxy to determine their rates.
The True Cost to Own breakdown by Edmunds shows that a new M3 will incur about $9,000 in repairs and maintenance costs over the next 5 years. That comes out to about $1,800 a year. Over a span of 14 years, that comes out to about $25,000.
For the IS F, we were only able to get the True Cost to Own for the base IS300. That shows maintenance and repairs will be about $8,000 over the next 5 years, which is $1,600 a year and $22,000 over 14 years.
The C63 is expected to cost $12,000 over 5 years in repairs and maintenance, which is $2,400 a year and $34,000 over 14 years.
If you add up just the depreciation and the repair and maintenance costs for each car over the last 14 years, here is what you get:
BMW M3: $65,000 in costs
Lexus IS F: $53,000 in costs
Mercedes-Benz C63 AMG: $70,000 in costs
That is a $17,000 difference between the Lexus and the Mercedes and a $12,000 one between the Lexus and the BMW.
So, was the BMW's crisp handling abilities or the Mercedes' pure speed worth the extra $12,000 to $17,000 over the Lexus?
On one hand, that seems like a lot of money, but on the other hand, customers who were able to buy these when new probably wouldn't be impacted much by a difference of that magnitude.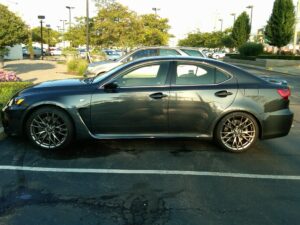 Still, looking back, the smart money would be on the Lexus IS F. Give us a 417 horsepower V8 and the extra ~$15,000 anyday. You could buy a whole extra Fiat 500 with that difference.
The Right Choice for 2022 – M3 vs C63 vs IS F
Okay, we've established that the IS F was the most sensible fiscal choice 14 years ago when you factor in the depreciation and maintenance costs. But, which car would be the best way to go today?
The IS F's current price of $30,000+ seems a bit steep, even if it will likely continue to have the best reliability record among this trio. But, it still looks fresh and contemporary.
The C63's current price also feels a tad high, especially considering the less-than-stellar long-term record of AMG engines. The C63 also has not aged incredibly gracefully, with a look that is decidedly mid-2000s.
The M3 depreciated the most out of all of these cars with many good examples under $25,000. Given that it was hailed as the best overall car during all of the initial comparison tests, we think that it would be the best choice in 2022. We think that it still looks great, too.
Summary
If we were able to transport back in time to 2008 and had to choose one of these cars when new, we would go with the Lexus IS F. It offered performance and handling that was close enough to the M3 and C63, yet with far lower depreciation and maintenance worries.
But, if we had to choose one of these 2008 models in 2022, we would probably go with the M3 given how much it has lost in value while still being better than some performance cars even today.
While the C63 was and still is enticing, it never seems to be the right choice when compared to the more financially prudent IS F and the better overall package found in the M3.
The coolest part about all of this is that these blue-chip performance cars that many of us lusted over are now extremely accessible at a fair price. So, go out and fulfill your automotive dreams from 2008, whether it was from your childhood or for your mid-life crisis.