We reviewed the best all-season tires for C7 Corvette models so that you can enjoy driving your Vette all year round.
Yes, it is possible to drive a Corvette in the cold and the (light) snow and yes, there are some capable tires out there that can help you accomplish this without compromising any performance.
The C7 was the last front engine Corvette from model years 2014 to 2019 and offered 450 horsepower from the base model all the way up to 755 horsepower from the insane ZR1. All of that power to the rear wheels means that its tires are a crucial part of its performance.
Many owners would like to use their C7 in all types of weather, so we looked through all the data and owner experiences on popular forums like CorvetteForum and StingrayForums.com to determine the best all-season tires for C7 Corvette drivers.
We made sure to look for options that offer strong performance above all, but also would provide a smooth ride and a long tread life.
So, let's take a look at the best all-season tires for C7 Corvette models so that you can stay on the road all year long and truly enjoy your C7.
Please be aware that some of the links mentioned in this article are affiliate links, which means that we will get a small commission if you make a purchase through those links, but it will be no extra cost to you. Thanks for your support!
Best All-Season Tires for C7 Corvette – Methodology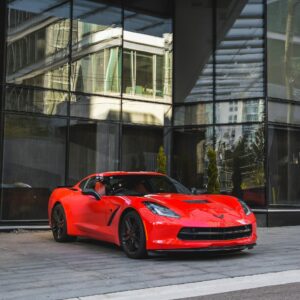 Before we begin, we wanted to find every single C7 Corvette model available throughout the years and see what their factory tire sizes are. Keep in mind that Corvettes have different sized wheels up front vs the rear.
Basically, we found that the base Corvettes factory setup is 245/40-18 in the front and 285/35-19 in the rear. Corvettes with the Z51 package added an extra inch on each tire, going with 245/35-19 fronts and 285/30-20 rears.
Meanwhile, the Z06, Z07, Grand Sport, Grand Sport Z07, and ZR1 all run the same factory size tires – 285/30-19 in the front and 335/25-20 in the rear.
We listed a full breakdown by year for each C7 Corvette model's tire sizes at the end of this article in case you are interested.
So, we looked for tire brands that offered a wide range of sizes that are suitable for every model so that you don't have to worry if they will fit on your C7 or not.
Order your next set of tires online and get FREE SHIPPING when you buy through Tire Rack! You can even get your tires delivered directly to your local installer free of charge.
The Best All-Season Tires for C7 Corvette
There are really only two players in town when it comes to all-season tires for a C7 if you want to stick to the stock factory sizes. So, here is a detailed review of each tire to see how they stack up against each other.
Michelin has a strong reputation for producing some of the best performing tires in the world and these all-season tires are no exception. The Pilot Sport All Season 4 tires were recently launched as the successor to the already great Michelin Pilot Sport A/S 3s.
These tires have been engineered to perform at a high level while still providing a comfortable ride. In fact, many owners comment on how much quieter and smoother the ride was compared to the stock Michelins.
They are also designed to provide up to 29% more tread life than other top competitors.
Performance-wise, these all-season tires make no compromises for their dry weather performance. It offers handling that is as crisp and sharp as the stock summer tires.
Additionally, you can expect them to be a strong upgrade in wet conditions. Of course, they also allow you to drive in some light snow, which no summer tire can claim.
In the latest customer survey, owners gave these tires over a 9.0 for wet and dry handling, while also giving them a strong rating for their winter performance, comfort, and treadwear.
They were also the highest rated tire among all ultra high performance all-season tire owners when asked if they would recommended it to others.
These Continentals were designed exclusively for high performance sports cars, so they offer handling and high speeds that are on-par with summer tires.
They are an excellent choice for C7 owners who do not want a run-flat and prefer a bit more of a smoother experience.
Reviewers state that these all-season tires provide an improved ride quality compared to the stock tires and are extremely smooth and quiet, yet still perform at an elite level.
They received a 9.0 or higher for almost every category, including wet and dry handling, comfort, and treadwear. For winter driving, they scored a 8.2, which is still extremely good for a performance-focused tire.
The Best All-Season Tires for C7 Corvette – Our Recommendation
The Michelins and Continentals are two perfectly capable sets of all-season tires that can deliver a high level of performance without compromise.
You really can't go wrong with either choice here. If you want the most recommended tire by owners, then the Michelin Pilot Sport All Season 4s are a great choice.
Instead, if you are looking for a ride that is a bit smoother and just as capable, then the Continental ExtremeContact DWS 06 PLUS tires is your answer.
Our choice would be to spend the small premium and go with the Michelin Pilot Sport All Season 4. They are truly an elite all-around performer.
If you want to save a bit of cash, then the Continental ExtremeContact DWS 06 PLUSs are still a very fine choice.
Reference – Tire Sizes by Year and Model for C7 Corvettes
Model
2014
2015
2016
Base
Front: 245/40-18
Rear: 285/35-19
Front: 245/40-18
Rear: 285/35-19
Front: 245/40-18
Rear: 285/35-19
Z51 Package
Front: 245/35-19
Rear: 285/30-20
Front: 245/35-19
Rear: 285/30-20
Front: 245/35-19
Rear: 285/30-20
Z06
Front: 285/30-19
Rear: 335/25-20
Front: 285/30-19
Rear: 335/25-20
Z07
Front: 285/30-19
Rear: 335/25-20
Front: 285/30-19
Rear: 335/25-20
Model
2017
2018
2019
Base
Front: 245/40-18
Rear: 285/35-19
Front: 245/40-18
Rear: 285/35-19
Front: 245/40-18
Rear: 285/35-19
Z51 Package
Front: 245/35-19
Rear: 285/30-20
Front: 245/35-19
Rear: 285/30-20
Front: 245/35-19
Rear: 285/30-20
Z06
Front: 285/30-19
Rear: 335/25-20
Front: 285/30-19
Rear: 335/25-20
Front: 285/30-19
Rear: 335/25-20
Z07
Front: 285/30-19
Rear: 335/25-20
Front: 285/30-19
Rear: 335/25-20
Front: 285/30-19
Rear: 335/25-20
Grand Sport
Front: 285/30-19
Rear: 335/25-20
Front: 285/30-19
Rear: 335/25-20
Front: 285/30-19
Rear: 335/25-20
Grand Sport Z07
Front: 285/30-19
Rear: 335/25-20
Front: 285/30-19
Rear: 335/25-20
Front: 285/30-19
Rear: 335/25-20
ZR1
Front: 285/30-19
Rear: 335/25-20
Articles You Might Also Like