We found the best tires for Escalade 22 inch wheels so that you can upgrade your rubber that can provide better performance, ride quality, and longevity.
22 inch rims are an iconic look on the Escalade, but it is pretty difficult to find the right tire combination since it is not a common size and the original factory tires aren't known for their comfort or their durability.
Therefore, we evaluated every tire that can fit on 22 inch wheels for the Escalade to determine the ones that deliver the best blend of handling, ride comfort, tread life, and overall value.
We even cross-referenced our recommendations with real-world Escalade owners and forums like CadillacForums.com and CadillacSociety.com to confirm that our picks actually provide long-lasting performance when used daily.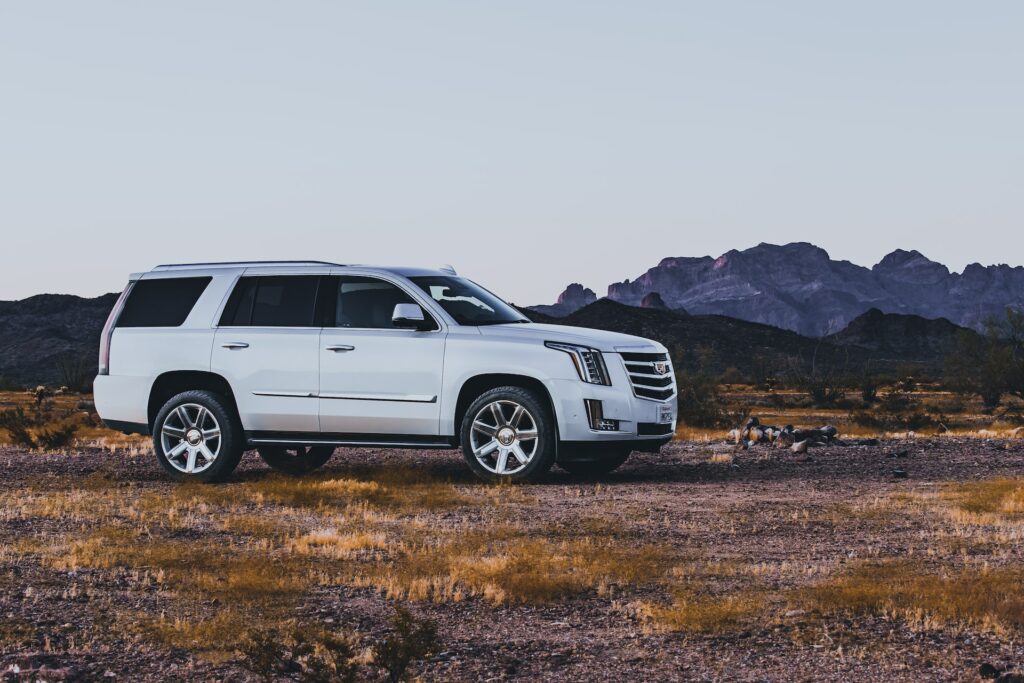 So, let's take a look at our research methodology and then get into our full list of the best tires for the Cadillac Escalade on 22 inch wheels.
Please be aware that some of the links mentioned in this article are affiliate links, which means that we will get a small commission if you make a purchase through those links, but it will be no extra cost to you. Thanks for your support!
Best 22 Inch Tires for Cadillac Escalade – Research
We first started with determining all the different tire sizes across all of the years and models of Escalades throughout the years.
Cadillac launched the Escalade in 1999 and has provided an option for 22 inch wheels in every of the five generations since.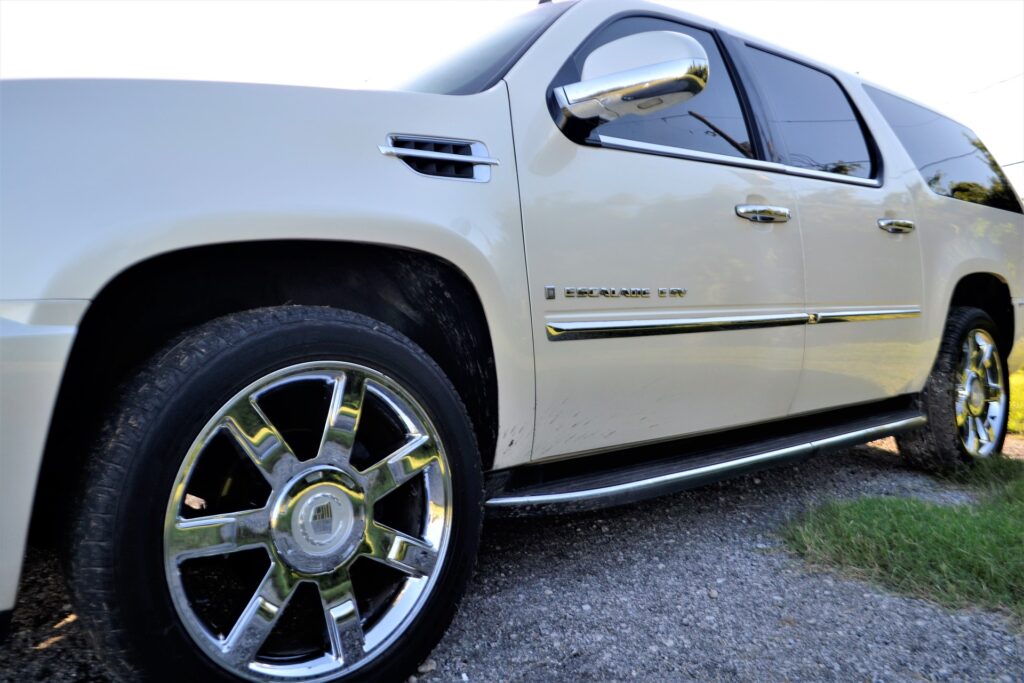 Starting in model year 2021, all Escalades even came standard with 22 inch rims.
Here are all of the specific tire sizes that will fit on 22s for each generation:
| | |
| --- | --- |
| Escalade Year | Tire Size for 22 Inch Wheels |
| 1st Generation: 1999-2000 | 275/45-22 |
| 2nd Generation: 2002-2006 | 275/45-22 |
| 3rd Generation: 2007-2014 | 285/45-22 |
| 4th Generation: 2015-2020 | 285/45-22 |
| 5th Generation: 2021-Present | 275/50-22 |
So, we looked for tire options that offer many different sizes so that they can fit on the majority of Escalade models.
We then developed a scoring system to determine what the "best" tire should be. We factored in 5 major categories to evaluate each tire:
Performance – handling, cornering, and steering feel in different weather conditions and pavement types
Ride Quality – road noise and comfort on roads and highways
Durability – tread life length and treadwear warranty
Value – how much a tire costs versus the quality and longevity it provides
Real Feedback – comments and long-term observations by owners and customers of the tire specifically fitted on the Escalade
Finally, we broke down our recommendations into three sections:
Best 22 Inch Wheel for Escalade – All-Season
Best 22 Inch Wheel for Escalade – Summer
Best 22 Inch Wheel for Escalade – Winter
We also compared every online tire seller and found that Tire Rack consistently offers the best prices & free shipping (even directly to your installer). They also include:
• FREE 2 year Road Hazard Protection with no-cost roadside assistance
• Tire Replacement Benefit to reimburse you 100% of the price of a damaged tire up to $599 per tire
• Flat Tire Repair Coverage up to $40 per tire
• Mobile Tire Installation Service that can come to your house
• Fast shipping usually in 1 to 2 business days

We've never seen a more generous benefits package from any other retailer, so we added a link to Tire Rack for each tire below.
Best Tires for Escalade 22 Inch Wheels – All-Season
Fits:
2007 to 2020 – 285/45-22
2021 to Present – 275/50-22
These Pirellis are one of the best all-season tires for Escalade 22 inch wheel models that we have ever evaluated.
They earned 1st place out of 48 "Crossover/SUV Touring All-Season Tires" in Tire Rack's latest survey and led their class in handling, ride quality, and treadlife.
They also come with a very generous Unlimited Time / 70,000 Mile treadwear warranty, making them a solid long-term choice.
---
Fits:
2007 to 2020 – 285/45-22
2021 to Present – 275/50-22
These Michelins offer an ideal blend of world-class performance, long tread life, and luxurious ride quality for Escalade owners looking for a capable all-weather tire.
They were also ranked #1 out of 52 "Highway Tires" by Tire Rack's customer survey.
Owners rated them with the highest score for their dry, wet, and snow performance as well as having the longest tread life over 22 million miles of reviews.
Michelin's extensive 6 Year / 70,000 Mile treadwear warranty offers extra security for Escalades riding on 22s as well.
---
Fits:
1999 to 2006 – 275/45-22
2007 to 2020 – 285/45-22
2021 to Present – 275/50-22
Kumho usually offers the sweet spot in value for all-season tires and these Curgen HP71s continue that trend.
They are usually priced a little less than the big brands, but still offer excellent performance, comfort, and longevity.
They were ranked a respectable 12th out of 48 "Crossover/SUV Touring All-Season Tires" and offer above-average marks in virtually every category.
The fact that they are available in numerous sizes also makes them quite accessible to Escalade owners of any year.
Kumho also provides a robust 6 Year / 65,000 Mile treadwear warranty, making them one of the best bangs-for-your-buck.
---
Best Tires for Escalade 22 Inch Wheels – Summer
Fits:
There is only one summer tire that we can fully recommend for Escalades with 22 inch rims. We also can only provide a choice for Escalades made between 2007 and 2020.
There aren't even any manufactures that offer a summer tire for the newest Escalades, so your best bet is to stick with all-season tires if you own the latest generation.
But, for those who own a 2007-2020 Cadillac Escalade that want an ultra-capable summer tire, then look no further than these Continentals.
They were engineered specifically with large performance SUVs in mind and offer extremely sticky handling and a supple ride.
They were only recently released, so there isn't enough data to rank them, but initial customer reviews have been very positive and Continental's latest tires have not disappointed us as of late.
---
Best Tires for Escalade 22 Inch Wheels – Winter
Fits:
2007 to 2020 – 285/45-22
2021 to Present – 275/50-22
If you want a dedicated set of 22 inch winter tires for your Escalade, then our top choice are these Blizzaks.
They have proven to be the most reliable snow tires for decades and were ranked as the #1 "Light Truck/SUV Studless Ice & Snow Tire" in Tire Rack's survey.
Tire Rack's own test even revealed that they were the "best in winter weather" and were easily the highest rated when it comes to snow traction.
---
Fits:
1999 to 2006 – 275/45-22
2007 to 2020 – 285/45-22
Michelin also makes a very capable snow tire for 22 inch Escalades that can handle extreme winter conditions.
They are engineered with Michelin's unique Flex-Ice 2.0 compound and have been tested for use in the most severe climates.
These newly released tires don't have enough data for ratings yet, but Michelin winter tires usually find themselves at the top of the leaderboard.
Michelin also throws in a 6 Year / 40,000 Mile treadwear warranty, which is quite rare to see on a winter tire.
---
Best 22 Inch Tires for Cadillac Escalade – Summary
This list showcased all of the top tire options for Escalades on 22s. They all help to maintain the Escalade's luxurious ride while still providing a long tread life and great performance in any weather condition that you may face.