We think the Hyundai Tucson is an excellent value, but there are some Hyundai Tucson years to avoid when shopping for a used version.
There were even some recalls for specific model years, so make sure you read through our breakdown by each generation to understand the years to avoid as well as the best years to target.
Ultimately, the Tucson is generally regarded as a practical, budget-friendly, and reliable compact SUV for most of its model years, but there were some issues that popped up in different years that would be best if you avoided them.
So, let's take a look at the Hyundai Tucson years to avoid so that you can make the smartest choice on your next car purchase.
Please note that the information provided in this article is the opinion of Certainly Cars and is not affiliated with Hyundai in any manner. Certainly Cars provides this information "as-is" and makes no representation that the content is error-free.
Certainly Cars is also not liable for any expenses or damages resulting from any action or decision taken as a result of usage of this article.
Hyundai Tucson Years to Avoid – Background
Let's start by understanding what kind of car the Tucson is and the generations that it has been produced for. This compact SUV was launched by Hyundai in 2005 as an entry-level SUV to slot under the larger Santa Fe.
Since then, it has actually become Hyundai's best-selling SUV with over 7 million units sold across the globe.
It has also grown in size and now shares the same platform as the Santa Fe. Most small families will certainly be able to fit all of their belongings in any year Hyundai Tucson, although the later model years are quite bigger.
The Tucson's first generation spanned from model year 2005 to 2009 and offered a design that was very mid 2000s. There was a lot of plastic cladding on its sides and around the wheels and followed a design philosophy that can generally be called "smooth" and "mainstream."
The 2nd generation Tucson was built from 2010 to 2015 and marked a significant growth for the SUV. For example, its length stretched from 170 inches to 176 inches.
It featured flowing lines and a more modern take on the family SUV.
The Tucson's 3rd generation lasted from 2016 to 2021 and was designed with a more imposing style and also started to offer a more modern interior with a larger touchscreen display.
Finally, the Tucson's 4th and latest generation debuted in 2021 for model year 2022 as a fully-redesigned model. It represents an aggressive and bold design that features sculpted side panels and a beautiful, jewel-like grille.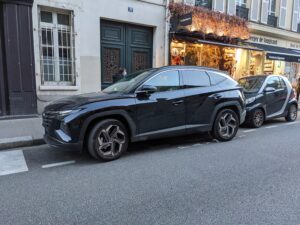 Inside, the newest Tucson also features a technology-laden cockpit that is at the top of its class.
But, what are the specific Hyundai Tucson years to avoid in each of these generations? Let's take a closer look.
Hyundai Tucson Years to Avoid: 1st Generation (2005-2009)
The first generation Tucson is generally regarded as pretty dependable. On CarComplaints.com, this generation actually had the lowest number of total complaints.
We think that the 2005-2009 Tucsons have turned out to be so reliable due to the fact that they were not very mechanically complex and did not include many overcomplicated technologies that we see in modern cars today.
But, be aware that these first generation Tucsons are the oldest and some are now almost 20 years old, so they will come with regular wear and tear issues.
Hyundai Tucson Years to Avoid: 2nd Generation (2010-2015)
The 2nd generation Tucson has also proven to be relatively reliable. But, the 2011 and 2012 model years do suffer from the most complaints, which are mainly around engine and transmission concerns.
In the most severe cases, a full engine replacement is needed, which can cost around $5,000.
Hyundai seemed to have fixed these issues after 2012 since the 2013 to 2015 model years have many fewer complaints compared to the first 3 years of this generation.
Hyundai Tucson Years to Avoid: 3rd Generation (2016-2021)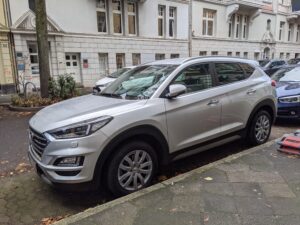 The 3rd generation Tucson overwhelmingly suffers from the most issues among all generations. Specifically, the 2016 and 2017 model years have had significant problems with their transmission.
Many owners reported a delay or even a lack of acceleration when starting from a standstill. There are also reports of the transmission not shifting properly in general.
These problems were significant enough for Hyundai to issue a recall on model year 2016 Tucsons. The recall fix updated the transmission's software.
Still, Consumer Reports even gave the 2016 and 2017 Tucson its lowest reliability score due to these transmission issues.
The 2016 Tucson also has the highest number of complaints compared to any other model year by far.
But, it is maybe not as bad as it sounds. If you still would like to purchase a used 3rd generation Hyundai Tucson, you can check to see if the recall update was made to the transmission's software. Or, you could just focus on buying a 2018 or up.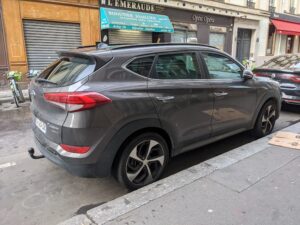 In fact, Hyundai seemed to have resolved everything by 2018 since the 2018 model year actually won an award from J.D. Power as the most dependable small SUV in their 2018 Vehicle Dependability Study.
Overall, we would say that 3rd generation Hyundai Tucson years to avoid are definitely the 2016 and 2017 model years.
Hyundai Tucson Years to Avoid: 4th Generation (2022-Present)
The newest Tucson was released in the US in November 2020, so there isn't quite enough data to make any long-term reliability judgements yet.
But, U.S.News and World Report gave the latest Tucson a predicted reliability score of 88 out of 100 and notes that its five-year/60,000-mile limited warranty and ten-year/100,000-mile powertrain warranty should help keep its owners' minds at ease.
Hyundai Tucson Years to Avoid – Summary
So, what are the Hyundai Tucson years to avoid? If it was our money, we would avoid the following model years:
Although each generation has its problems, Hyundai seemed to be quick enough to fix them so that the rest of the generation is actually quite reliable.
Our advice for the best Tucson years to target are:
1st Generation: 2008-2009
2nd Generation: 2013-2015
3rd Generation: 2018-2021
4th Generation: 2022-present
Articles You Might Also Like