We evaluated every tire on the market to determine the best tires for F150 20 inch wheels so that you can upgrade the performance and longevity of your tires.
Ford started offering 20 inch rims as an option starting in 1997 and they have continued to provide these great looking wheels through the present generation of F150s.
20 inch wheels certainly help to improve the handling and overall aesthetics of an F150, but finding the right replacement tires for them is not always so simple.
Therefore, we looked through every year and model of F150 and matched them with the best performing tires that will actually fit.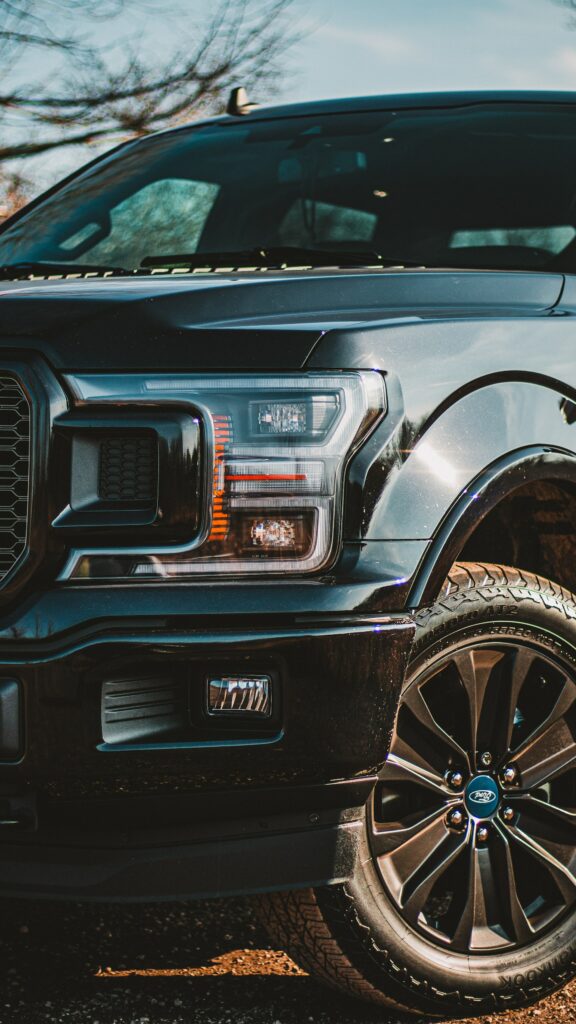 Our in-depth methodology ensures that we truly uncover the top choices in the market and we even cross-referenced our recommendations with real-world owners in forums like F150forum.com and F150gen14.com to validate that our picks actually perform well over time.
So, let's dive into our methodology to see how we determined the best 20 inch tires for F150 owners and then get into the full list of our top picks.
Please be aware that some of the links mentioned in this article are affiliate links, which means that we will get a small commission if you make a purchase through those links, but it will be no extra cost to you. Thanks for your support!
Best 20 Inch Tires for Ford F150 – Methodology
In our quest to figure out the best 20 inch tires for the Ford F150, we started with setting up a scoring system to evaluate all the tires out there.
We decided on these five critical factors:
Performance – overall handling in different conditions and different types of pavement
Tread Life – durability and longevity to handle 30,000+ miles
Comfort – road noise and continuous ride quality as the tire wears
Feedback from Owners – real-world comments and reviews from actual customers
Value – cost versus quality and length of warranty provided
We added up our score for each tire to determine our list of the top choices.
Finally, we split our findings into two categories:
Highway Tires
On/Off-Road Tires
We also compared every online tire seller and found that Tire Rack consistently offers the best prices & free shipping (even directly to your installer). They also include:
• FREE 2 year Road Hazard Protection with no-cost roadside assistance
• Tire Replacement Benefit to reimburse you 100% of the price of a damaged tire up to $599 per tire
• Flat Tire Repair Coverage up to $40 per tire
• Mobile Tire Installation Service that can come to your house
• Fast shipping usually in 1 to 2 business days

We've never seen a more generous benefits package from any other retailer, so we added a link to Tire Rack for each tire below.
The 4 Best Tires for F150 20 Inch Wheels
Highway Tires
These Michelins are the perfect blend of class-leading performance, excellent tread life, and supple ride quality for F150 owners with 20 inch wheels who find themselves often on highways or around town.
In fact, they captured 1st place out of 52 "Highway Tires" in Tire Rack's customer survey.
They also earned top marks for their dry, wet, and snow performance, as well as the best treadwear score with over 22 million miles of reviews.
Michelin's robust 6 Year / 70,000 Mile treadwear warranty provides extra security as well.
---
These Continentals are another great option for 20 inch rims on an F150 as they offer a luxurious ride and some of the best all-weather handling in its class.
They were ranked as the 3rd best tire out of 52 "Highway Tires" by Tire Rack customers and tied for the best score in traction and treadwear.
Additionally, they earned the highest score in their whole class for cornering stability, dry traction, as well as having the lowest road noise.
Continental also matches Michelin with a 6 Year / 70,000 Mile treadwear warranty on these well-rounded tires.
---
On/Off-Road Tires
Vredestein is a tire brand from Europe that is making huge waves in the US market these days. They have developed some of the best tires available using advanced computer designs and a proprietary compound, yet are often priced 10-20% lower than most big names.
Their on/off-road tires are ideal for F150 owners with 20 inch wheels who frequently drive on unpaved paths and are actually one of the best on/off road tires we have ever evaluated.
Customers agree and they ranked these Vredesteins #1 out of 33 "On-/Off-Road Tires" in Tire Rack's customer survey.
They were also the only tire that was rated "excellent" in every single category, which includes off-road performance, dry, wet, and snow traction, ride quality, and durability.
Their super competitive price point and top-notch performance make them one of the best bangs-for-your-buck, especially compared to bigger names like Pirelli and Goodyear.
On top of that, Vredestein provides a long 8 Year / 70,000 Mile treadwear warranty.
---
Toyo is a trusted name when it comes to off-roading tires and these latest Open Country A/T III tires continue its strong legacy.
They were rated as the 3rd best tire out of 33 "On-/Off-Road Tires" in Tire Rack's latest customer survey and offer class-leading performance in the dirt, mud, and sand as well as excellent handling in the snow.
They also were tied with the Vredesteins for having the longest-lasting tread life in the survey.
Their availability in so many tire sizes and widths (as well as in a "Light Truck" option) make them a strong choice to pair with F150s with 20 inch rims.
Don't forget about Toyo's generous 5 Year / 65,000 Mile treadwear warranty.
---
The 4 Best Tires for F150 20 Inch Wheels – Summary
Overall, these tires represent the best options for F150 owners with 20 inch rims. Whether you spend the majority of your time around town and on the highway or if you use your F150 on a job site or on unpaved paths, our analysis matches you with the best tires for your situation.
All of our recommendations earned the highest cumulative scores in our detailed evaluation and also passed the subjective test of customer feedback.
Therefore, we are confident that these tires provide the ideal blend of handling, long-lasting tread life, exquisite ride quality, and total value, especially when considering the specific size of 20 inch tires.
They will surely help you upgrade your F150 and make it feel like a whole new truck.