The 996 generation of the Porsche 911 is now an excellent value on the used market, but there are several Porsche 996 years to avoid if you are considering one now. It is easy to find a 996 starting at around $20,000 these days, which is incredible considering that it cost just 25% of its original price when you factor in inflation.
But, which years are the most problematic 996s that you need to be aware of? We made a detailed analysis of each year in the 996 generation and cross-referenced our findings with anecdotal accounts from major Porsche forums like Rennlist, Pelican Parts, and 6speedonline.
The popular wisdom is that the best 996 you can buy is the one you can afford and the worst one is the one you cannot. We know that this choice is also not fully logical, but life is short and the 996 is fun.
Still, we understand that you want to be informed about your choice and be able to make a prudent decision, so let's find out which Porsche 996 years to avoid and the specific issues that pop up each year.
Please note that the information provided in this article is the opinion of Certainly Cars and is not affiliated with Porsche in any manner. Certainly Cars provides this information "as-is" and makes no representation that the content is error-free. Certainly Cars is also not liable for any expenses or damages resulting from any action or decision taken as a result of usage of this article.
Porsche 911 996 Generation – Overview
We start with a general summary of the 996. It holds a special place in Porsche's history as it was the first 911 to feature a water-cooled engine compared to the previous air-cooled versions.
The 996 was also developed alongside the first Boxster and shared many components with its entry-level brother in an effort to save costs for Porsche. This included the sharing of the highly polarizing "fried egg" style headlights, which was a distinct departure from the traditional oval shape found on previous 911 front ends.
The 996 was manufactured from model year 1999 to 2004. 1999 to 2001 is referred to as MkI while the mid-cycle refresh from 2002 to 2004 is known as MkII.
One of the major updates for the refresh in 2002 included a larger engine, going from a 3.4 liter to a 3.6 liter flat six. The 3.4 liter engine from the MkI generation produced 300 horsepower, while the updated 3.6 liter engine made 320 horsepower.
Porsche also used the Turbo style headlights for all 996s starting in 2002.
There were many variations of the 996 that are available, which include the base Carrera, Carrera 4S, Targa, Turbo, Turbo S, GT2, GT3, GT3RS, and cabriolet versions of the Carreras and Turbos.
Overall, Porsche officially produced 175,262 996s.
Porsche 996 Years to Avoid – Full Breakdown
When we started to dive into the topic of Porsche 996 years to avoid, the major debate revolved around the 1999-2001 MkI versus the 2002-2004 MkII.
The general consensus is that the 2002 and later models solved many of the small issues found in the earlier versions.
The newer 3.6 liter engine is viewed as a bit more robust than the 3.4 liter engine, although it has its own problems as well.
The 2002 and up also benefited from an improved interior and sound system along with the previously mentioned upgrades to the exterior design.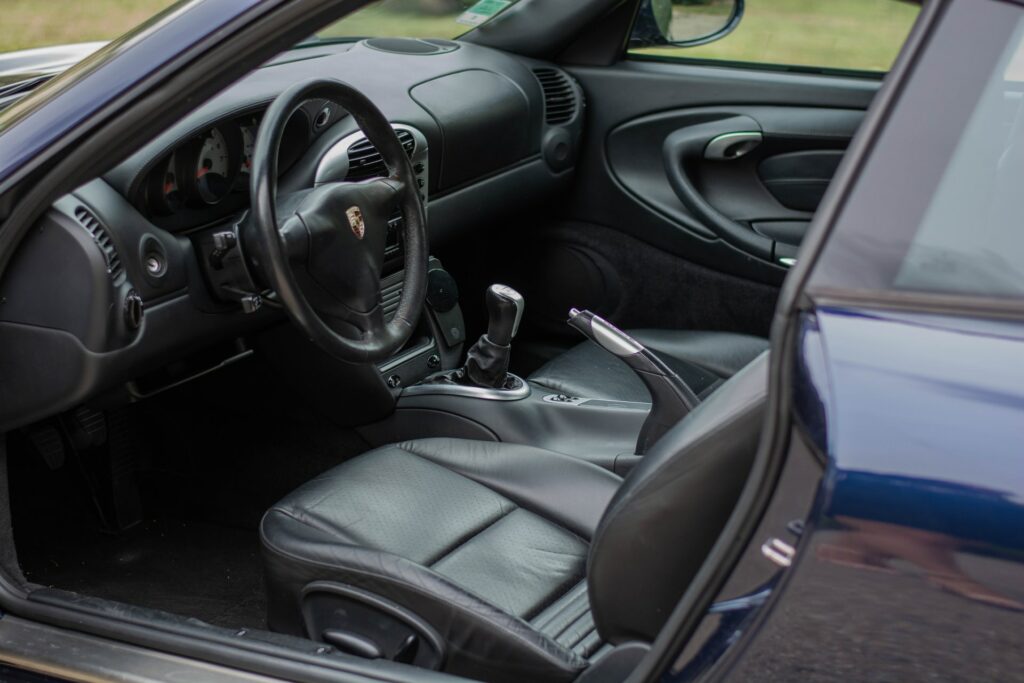 For cabriolet seekers, note that 1999 to 2001 models were fitted with plastic windows as part of the convertible unit. These have not stood the test of time very well as they are prone to scratching and clouding. Starting in 2002, all 996 cabriolets featured glass windows.
Now we get into the major issues for 996s. All model years suffered from 3 big problems:
Intermediate shaft bearing (IMS) failure
Rear main seal (RMS) failure
Air/oil separator (AOS) failure
1. IMS Failure
The bearings of the intermediate shaft can breakdown at any moment, which could destroy the whole engine. It is a highly discussed issue in the Porsche community, but realistic estimates are that only about 5% of all engines have or will suffer from this issue.
2. RMS Failure
This issue would cause an unwanted oil leak since the seal would allow oil to escape, but it would not stop the car from operating or blow up the whole engine immediately. Still, it would need to be addressed or it may contaminate the friction plate for the clutch over time and may also lead to an engine failure if the oil levels are not monitored regularly.
3. AOS Failure
The component that separates the intake air from the oil may start to allow oil into the intake system. This can lead to problems with the catalytic converters and spark plugs and may eventually cause a catastrophic failure of the engine. You usually can recognize this problem if you start to see white smoke coming from your exhaust.
Virtually every 996 is susceptible to these issues, although 996s built through 2000 were fitted with a dual row bearing that was a bit more reliable than the single row bearing design that was used after 2000.
The good news is that all of these issues can be fixed or preventatively maintained. Many original owners are aware of these problems and may have already had their car serviced and upgraded. If not, it will probably cost about $3,000 to $5,000 to replace or retrofit fixes for all of these issues.
Now we get to the part where we choose the Porsche 996 years to avoid and the best years to look for.
If we look at the most recent 996 owner's survey from Rennlist, we see the following results for repair frequencies per 100 cars per year:
1999: 117, below average
2000: 44, above average
2001: 80, above average
2002: 67, above average
2003: 46, above average
2004: 50, above average (small sample size)
The numbers tend to indicate that the later model years were a bit less prone to repairs. Also, the 1999 model year stands out as the one with the most issues. That makes sense, as it was the first model year and Porsche had time to iron out the issues over time.
Therefore, if it was our money, the Porsche 996 years to avoid would be:
1999 996
2000 996
2001 996
Conversely, the ideal 996s to target for us would be:
2002 996
2003 996
2004 996
However, it is entirely possible to find a good example of a 1999-2001 MkI, especially if the IMS, RMS, and AOS issues have already been addressed. Your best bet would be to find a 996 with detailed maintenance records to see if these problems have been solved or not, regardless of the year.
Summary – Porsche 996 Years to Avoid
Overall, most folks are drawn to 2002 and up 996s due to their improved aesthetics, bump in engine output, and overall reliability. But, all 996s may suffer from the 3 big engine issues we mentioned. Therefore, it would be wise to find a used 996 that has resolved all of these worries.
Articles You Might Also Like