We looked through all the reviews on noise and comfort levels to find the quietest tires for Honda Odyssey drivers so that you can reduce the road noises.
The original stock tires for the Odyssey tried to balance longevity with comfort, but some owners complain that they are still too noisy.
There are many great tires out there that are a bit quieter than the stock set of treads, so we sought out to find the best and quietest tires based on their reviews and real-world feedback from actual owners who have tested the tires on their Odyssey.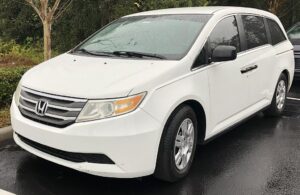 We also made sure to include a wide range of tire options, from premium brands like Michelin and Goodyear, to some budget-friendly choices as well.
So, let's take a look at the quietest tires for Honda Odyssey owners so that you can upgrade your tires and actually hear the conversation you are having with your family.
Please be aware that some of the links mentioned in this article are affiliate links, which means that we will get a small commission if you make a purchase through those links, but it will be no extra cost to you. Thanks for your support!
Quietest Tires for Honda Odyssey – Methodology
To determine the quietest tires for Honda Odyssey models, we needed to first identify which Odyssey years to include in this study and how to measure the quietness of a particular tire.
Therefore, we narrowed the scope of this list to include the best tires for the latest generations of Odysseys since 2011.
To figure out which tires would be the quietest for the Odyssey, we focused our search on tires that offer a higher side profile, since a bigger sidewall usually reduces stiffness, which can then help reduce road noise.
Therefore, we only included tires with a rating of 60 or higher for their profile percentage compared to their tread width.
We also compared every online tire seller and found that Tire Rack consistently offers the best prices & free shipping (even directly to your installer). They also include:
• FREE 2 year Road Hazard Protection with no-cost roadside assistance
• Tire Replacement Benefit to reimburse you 100% of the price of a damaged tire up to $599 per tire
• Flat Tire Repair Coverage up to $40 per tire
• Mobile Tire Installation Service that can come to your house
• Fast shipping usually in 1 to 2 business days

We've never seen a more generous benefits package from any other retailer, so we added a link to Tire Rack for each tire below.
The 6 Quietest Tires for Honda Odyssey
These Michelin tires were rated as the quietest tires for Honda Odyssey drivers based on the latest owner's survey.
In fact, they are the only tire to earn a score above a 9.0 for their noise.
The rest of their scores are pretty good, too, for this "luxury touring tire". They scored above a 9.0 for their wet and dry handling performance as well as their overall ride quality.
These top scores catapulted the Primacy Tour A/Ss to 1st place out of 28 "Passenger All-Season Tires" according to Tire Rack's latest survey.
These all-season tires are great for almost all types of weather and can even handle a bit of snow.
---
These premium grand touring all-season tires were developed by one of the best European tire manufacturers and offer some of the quietest tires on the market.
They earned one of the highest recommendation scores in their category and were rated a 9.0 or above in wet and dry performance as well as total comfort.
Specifically, they scored an 8.8 for their road noise.
The Vredestein Quatrac Pros are even good in light snow and earned the three-peak mountain snowflake symbol.
---
Another Michelin tire makes our list of the best and quietest tires for Honda Odyssey drivers to consider.
These all-season touring tires feature some of Michelin's latest technologies, such as their "PIANO Noise Reduction Tuning" that decreases airborne noise, as well as their "3D SipeLock" technology that improves handling and traction in poor weather.
The CrossClimate2 tires also scored an 8.8 in road noise in the latest customer survey, making them one of the quietest tires on the market for minivans and SUVs.
---
For those looking for a budget-friendly tire, look no further than the General AltiMAX RT43 line. It offers impressive performance and longevity, especially for its price point.
Meanwhile, it was still rated very highly in terms of its noise and comfort. Real-world owners gave these tires an 8.5 in overall comfort, with an 8.3 in noise and 8.8 in ride quality.
---
These Goodyears offer a quiet and smooth ride for every season. It even received the Severe Snow Service certification symbol.
Goodyear packed a ton of technology into these tires, including their exclusive "3D TredLock Technology Blades," "Evolving Traction Grooves," and "Sweeping Tread Grooves" that all help to increase traction in inclement conditions.
Their noise and comfort levels were also highly rated, earning an 8.4 in road noise and a 8.9 in ride quality.
---
These dependable all-season tires from Firestone offer a great blend of wet and dry performance for every type of weather as well as quietness and comfort.
Their "Hydro-Grip Technology Package" helps reduce chances of hydroplaning, while their "TractionTech Package" improves handling overall.
These Firestones received an 8.0 for road noise and an 8.8 for ride quality based on feedback from over 600,000 miles driven from their owners.
---
Summary – Quietest Tires for Honda Odyssey
We think that these options are the quietest tires for Honda Odyssey drivers today. They all feature excellent all-season performance and a peaceful and smooth ride so that you can hear the kids or your music clearly.
There is really no wrong choice here. All of these tires will deliver a quiet environment for your Odyssey, so check out the latest prices and order your new set today.
Articles You Might Also Like