It was the Summer of 2011. I had just received a new job offer to relocate to the Midwest. The future was bright. So, what is the first thing that came to my mind? Which sports car should I buy?
The new job would pay me enough that I could afford two major things – rent and a cool car. My budget for the car was about $35,000, which would leave me just enough to pay my rent and buy Subway every night for dinner.
Here is the short-list of cars that I seriously considered at that time. I wanted it used and automatic transmission since I did not know how to drive a manual (yet):
BMW 335i Coupe
Audi S5
Infiniti G37 Coupe
Lexus IS-F
Porsche Cayman
The BMW 335i was a bit too commonplace and I worried about long-term maintenance. Plus, the deals were not so enticing at the time.
I was not in love with the Audi S5's interior, although 354 horsepower did sound nice.
The Infiniti G37 was also quite attractive, but it was not entirely special, especially since I wanted to actually spend the full allotment of my budget. At that price, you could almost get yourself into a new G37. New cars were not up for discussion since I did not want to eat the majority of the depreciation.
The Lexus IS-F was especially intriguing given its massive output of 416 horsepower and Lexus' legendary build quality.
Finally, the Porsche Cayman just snuck under the budget and was immediately a top contender just based on its looks and pedigree. I was even amazed that used examples started getting into my price range.
I test drove both the IS-F and Cayman and came away with some stark differences from my experiences. The IS-F was certainly fast and nimble, but it wasn't as focused as a true sports car should be. That made sense since it was developed from the base IS and mainly just given a bigger engine and suspension upgrades.
Whereas the Cayman was built from scratch with a singular purpose to carve up canyons. It was more agile, more precise, and more intimate than the IS-F and therefore it became my top choice.
I most likely could only afford a base Cayman with 245 horsepower and not the S version with 295 horsepower.
1st Porsche Cayman in the US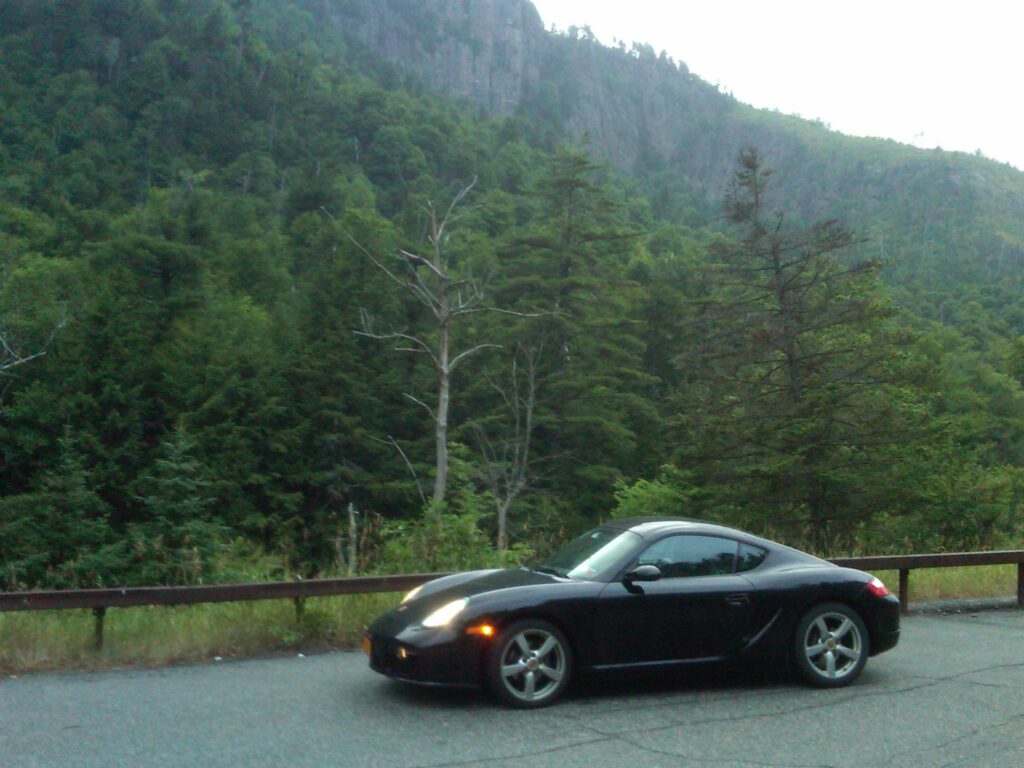 I was able to locate a 2008 Cayman Base automatic in Basalt Black Metallic for just over $36,000. It also came with 18 inch Cayman S wheels.
My first impressions were that it drove like it was magnetically glued to every single road it encountered. It was raw and direct and gave you the impression that it was in control at all times, which meant that you were also in control. My only quibble was with the automatic Tiptronic system. It didn't decide as quickly as I would have liked and wasn't buttery smooth either. I've since tried Porsche's Doppelkupplungsgetriebe (PDK) system, which is a revelation compared to the original Tiptronic. But, for a system originally developed in 1991 and updated for the Boxster in 2005 for the 987 generation, it was good enough.
While the car itself was fantastic, the roads I was able to access around the Midwest were not as impressive. What I found were bumpy, pothole ridden streets at every turn and congested, speed limited highways as well. Basically, it was not exactly very Porsche-friendly.
Relocation to Europe
At some point in 2012, I was offered a 2 year assignment to work in Europe. The job opportunity was a great step for my career and the pay was decent, so I decided to take it. However, that meant that I would need to sell my beloved Cayman. Since I couldn't stick around and was looking to make a quick sale, I unloaded it to a nearby Ford dealer for a loss of about $10k in 1 year. Oh well.
I started my job in Europe and found that most people would bike to work, even in the rain or the cold. That lifestyle was not quite what I was looking for, so I started my search for a new car.
My first thought was to try to get something that was not available in the US, like a Volkswagen Scirocco or Peugeot RCZ, but none were as cool as a Cayman. Plus, I had a desire to learn (and then buy) a manual car, which in my head, the Cayman was perfect for.
The first step of this plan meant learning how to drive a manual. So, I signed up for hourly courses and trained on a 5-speed Volkswagen Golf. After about 8 hours of lessons, I was irrationally confident that I could pilot a manual Cayman back home on my own.
2nd Porsche Cayman in Europe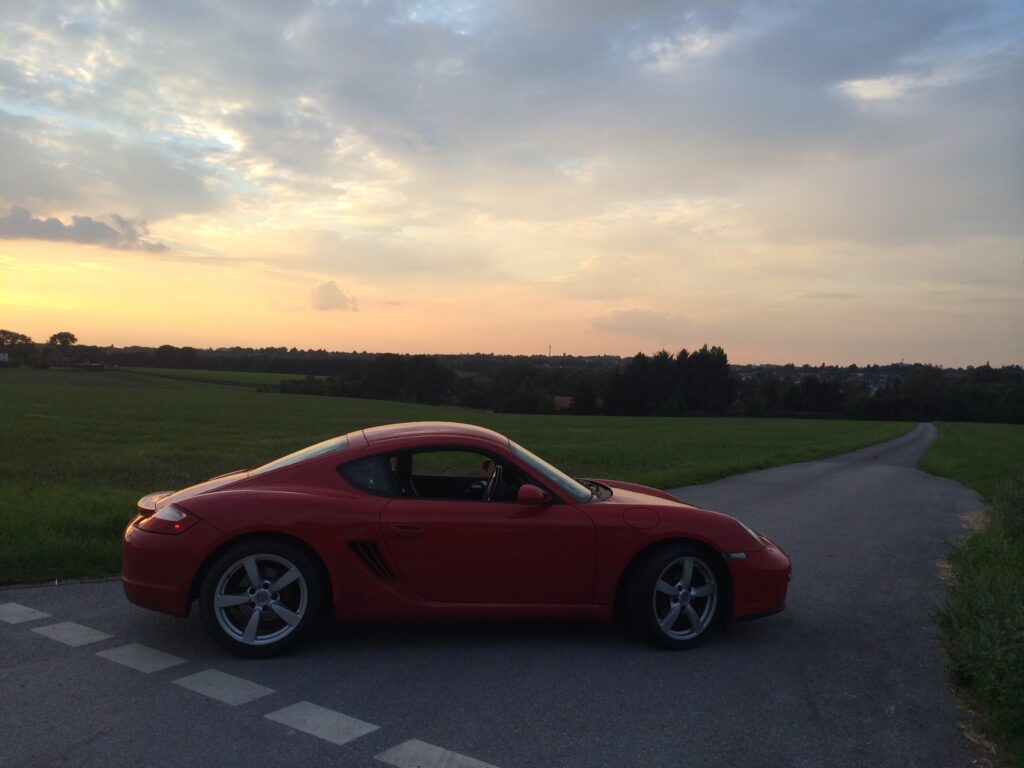 So, I started my search exclusively for stick shift Caymans. I also wanted one in a different color than my original black one. You don't find many Porsches driving around Europe and Caymans were exceptionally rare.
But, I found a 2007 Cayman Base 5-speed in Guards Red for just about €29,000. While that was a good deal locally in Euros, unfortunately for me, I had to convert my USD savings, so it actually came out to almost $40,000 at the time. Somehow, I found myself earning less than I was in the US and paying more for the same type of car.
Oh, and gas prices were also astronomically high. The cost of 1 liter of premium gas was about €1.80. There are 3.78 liters in 1 gallon, meaning that the cost of 1 gallon in dollars was about $9.00! Good thing the Cayman wasn't so thirsty with its fuel consumption. I managed to get about 20-25 miles per gallon, so things could have been worse.
But, it was all worth it in the end. The 5-speed allowed me to dictate exactly which gear to be in at exactly the right time, which was something I was missing from my first Cayman. Also, the chance to be in Europe opened up my driving opportunities to many different types of terrain and countries. I blasted through the unlimited speeds of the autobahn in Germany, enjoyed the sparsely populated countrysides of France, and rode through the immaculately paved roads of the Netherlands. I even drove through Luxembourg, a country of just 600,000 people. There were multiple stretches of time where I didn't encounter a single car in the mountainous backroads of the country. Even better, there were many parts of these winding roads where the speed limit was 90 kilometers per hour (about 55 miles per hour), but where your car or your skill level (or both) did not permit you to come close to those speeds.
However, each country was not without its flaws when it came to automotive transportation. It is true that the autobahn has multiple sections with restricted speeds and that there is often heavy congestion around the big cities, so you can't just drive as fast as you want across all of Germany. In the Netherlands, speed limits are dynamically controlled based on traffic and it is normal to find the limit set to 100 kilometers per hour (about 62 miles per hour) on large highways. And it seemed like Belgium was just one big traffic jam at all hours.
Still, the experience was positive overall. The feeling of turning the key on the left side of the dash and hearing the distinct warble of flat 6 come alive was a great memory to have.
Transmission Comparison – Automatic vs. Manual Cayman
So, which transmission did I prefer? 98% of the time, I would say the manual. The Cayman was built for a manual. It was smooth and crisp and really gave you full control of the car. The only 2% of the time that I preferred an automatic in a Cayman is when I was starting on a hill. There was no hill hold feature and it was quite terrifying for a beginner like me. I'm sure newer versions of the Cayman have included this feature.
The Tiptronic Cayman is not a bad car by any means, but it just wasn't perfect. For me, true bliss was the 5-speed base version of the car, which provided excellent balance and full connectivity. I cannot think of another driving experience that comes close at this price point.
Final Verdict – US Porsche Cayman or European Porsche Cayman
If you take into consideration the transmission and the driving experience, I would say that the manual Cayman in Europe was by far the best combination. There is something about the old world charm of Europe that made me want to explore each country with this scalpel of a car. The different states of the US don't quite evoke the same feeling.
The ability to control my shifts was also a major positive point. The experience of rev matching a 3-2 downshift to then overtake a truck on the autobahn was quite exhilarating. You could still control the shifts on a Tiptronic, but you miss the feeling of slamming the clutch and manually revving up the engine to match the lower gear.
My personal (and completely impractical) recommendation is this – get a job out in Europe, buy a 987 Cayman 5-speed in good condition for about €20,000, and take each weekend to drive through a new country. The color is your choice.