In this series, we jump into the future and try to predict each car manufacturer's lineup in 20 or 30 years. Today, we will take a look at Porsche. Will this sports car maker's lineup continue to proliferate into more SUVs and sedans? What will happen to the iconic 911? How will they approach the electric revolution?
We think that the world in 2040 will still demand gasoline-based cars as well as sporty automobiles, so Porsche should continue to thrive. However, there are several strategic choices that they will need to make in order to stay relevant and remain a top player in the premium sports car category.
Of course, we cannot fully know what is going on in the Porsche boardrooms at this moment, nor can we truly understand what the future will bring. We also realize that some of the technology that we refer to may not arrive by 2040.
But, we want to use this time to think about the possibilities and make an educated guess so that both Porsche and the public can use it as a foundation for what lies ahead.
The Predicted 2040 Porsche Lineup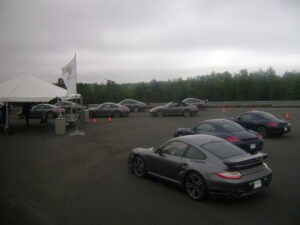 First, let's list all of the cars that we think that Porsche will sell in 2040 by category.
Supercar – 930 Spyder
Premium Sports Car – 911
Mid-Tier Sports Car – 718 Boxster, 718 Cayman
Entry-Level Sports Car – 550
Premium Sports SUV – Cayenne
Mid-Tier Sports SUV – Macan
Entry-Level Sports SUV
Premium Sports Sedan – Taycan
As you can see, we think that there will be several significant changes that will occur. First, we believe that Porsche will revive their supercar offering and introduce a successor to the 918 Spyder. Next, we expect that they will finally add an entry level sports coupe as well as a small SUV to slot under the Macan.
Finally, we predict that the Panamera sedan will disappear over time as it serves roughly the same purpose as the Taycan, but it's just not fully electric. Since Porsche's electric vehicle goal is to have at least 80% of its volume to be partially or fully electric by 2030, we assume that the Panamera will just give way to the Taycan in the sedan segment. We also don't believe that Porsche will expand their sedan options since the segment has been rapidly losing share to SUVs and crossovers.
Now, let us evaluate each category and find out what we think 2040 will look like for Porsche.
Supercar – 930 Spyder
In 2040, Porsche will unveil their halo car that will be fully electric and will showcase their latest technology and most advanced electric capabilities. That includes a battery pack that yields a range of 2,000 miles, wireless charging in 10 minutes, and solar panels that will generate an additional 200 miles for an extra boost on the go.
Output-wise, we envision the two electric motors to deliver over 1,000 horsepower and be able to reach 0 to 60 miles per hour in under 2 seconds. Production will likely be limited to under 1,000 units and will carry a price tag of at least $1 million by the year 2040.
Premium Sports Car – 911
The 911 will still exist, although several models will likely meet their demise by 2040. We anticipate that the 911 lineup will still feature some gas-powered versions, but the majority will be fully electric.
The classic 911 Carrera will only be offered as a fully electric model. The same goes for the 911 Turbo, whose name will only help differentiate it as a higher prestige model, but will not actually utilize a turbocharger. In fact, it will only feature a higher capacity battery to make it faster than a base 911.
The only 911 models that will be offered with a gasoline engine will be the GT3 and GT2. They will stay pure to their racing heritage and offer discerning consumers the chance to hear the roar of a traditional, flat-six engine behind their heads. With that said, even the GT3 and GT2 will also offer an electric version to help Porsche meet their stricter goal of 95% of all vehicles sold being electric by 2040.
Performance should improve linearly from generations in the past, so we expect the base 911 to produce at least 400 horsepower and the Turbo and GT2 to top out at over 800 horsepower.
Mid-Tier Sports Car – 718 Boxster, 718 Cayman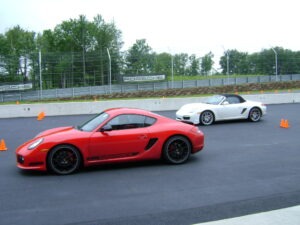 We expect the 718 Boxster and 718 Cayman to live on in the year 2040. The major difference from today would be the full electrification of both models. The 718 Cayman GT4 will also be included in the lineup with an option to be fully petroleum-based, but no other 718 will come with that choice.
Still, they will represent the sweet spot in Porsche's sports car lineup, with an output of 350 to 500 horsepower.
Entry-Level Sports Car – 550
In an effort to increase their market share, Porsche will finally roll out a modern day entry-level sports car that will be priced below the 718. We expect it to start at a price of $40,000 in today's money. Its main competitors will be premium versions of cars like the Ford Mustang, Chevrolet Camaro, Nissan 370Z, and Toyota GR 86 as well as base models of the Toyota Supra, Jaguar F-Type, BMW Z4, and Lexus RC.
The 550 will borrow the name from Porsche's racing heritage. The original 550 debuted in 1953 and was produced until 1956, winning numerous races. It was also the model that actor James Dean was driving when he crashed in 1955.
We expect the Porsche 550 to come only in electric variants and should offer 0 to 60 performance in the high 4 second range from engines that should produce 250 to 300 horsepower.
We also think that this foray into the entry-level market will allow Porsche to also experiment with some new business models and model variations.
For example, we believe that Porsche will debut an eco line as part of their entry-level strategy. They will look to capture buyers who want to be environmentally friendly and are cost conscious, yet still want the thrills of a high performing sports car. This eco line will certainly be fully electric and will be built with a high percentage of recycled materials both inside and out, taking a page from BMW's efforts with the i3. The interior will also be outfitted with vegan leather for the seats and steering wheel. On top of that, large portions of the vehicle itself will be recyclable at the end of its life.
Premium Sports SUV – Cayenne
The Cayenne will continue to exist and will likely grow bigger to accommodate a 3rd row to keep up with the BMW X7, Audi Q7, and Mercedes-Benz GLS. The Cayenne lineup will also be fully electric as Porsche will bet that customers in this segment are not diehard traditionalists who will demand a petrol engine.
We think that the Turbo and GTS variants will also carryover into 2040, just with different sized batteries that will equate to faster speeds for these premium models.
Mid-Tier Sports SUV – Macan
The Macan will certainly be part of Porsche's 2040 lineup and will likely continue to be the bread and butter of their sales. As a result, we expect them to expand their offerings among Macans to appeal to a broader audience.
We think they will introduce some more sporty variants of the Macan, such as a Macan RS or a Macan GT4. The latter may also be available as a gas-powered model, although all other versions will be electric.
We also anticipate many more model types to be included by 2040, such as a fastback version with a sloping roofline and even a two-door version that could include a convertible model, just like the Volkswagen T-Roc Cabriolet.
Entry-Level Sports SUV
By 2040, we think that the market demand for crossovers and SUVs will continue its current pace of growth, so Porsche will capitalize on this trend by inserting a compact SUV into their lineup below the Macan.
It will most likely be based on the Volkswagen ID.4 and Volkswagen Taos platform and will be all electric. The engines offered will most likely be in the 200 to 300 horsepower range.
Just like the entry-level sports car, we think that Porsche's new compact SUV will also be offered with an eco-friendly model that is more focused on sustainability with a blend of performance.
Additionally, just like the Macan, we expect these small SUVs to come in a variety of design types, such as a coupe-like design and a two-door version.
Although we think performance will likely be muted in this segment, the two-door compact SUV may actually open the door to a new high performance market altogether. It would allow people to combine performance, utility, and aesthetics into one package. That could also mean that Porsche will eventually roll out GT versions of this model to capture this niche.
Premium Sports Sedan – Taycan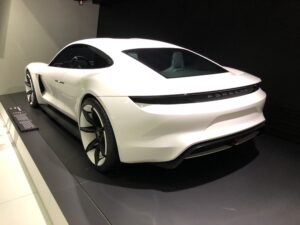 Finally, we get to the sedan segment, where we believe that the Panamera will cease to exist as demand for gasoline sedans will dwindle by 2040. The fully electric Taycan will take its place and offer a slew of variations to cover all the ground.
There are already Taycan Cross Turismo and Turbo versions available, but we think they will continue further with a GTS model as well.
There may also be space for a gran turismo-type Taycan coupe that could offer customers a bit more relaxed experience compared to the 911 and could compete against cars like the Aston Martin DB11, Bentley Continental, and Mercedes-AMG S63 Coupe.
2040 and New Porsche Business Models
Once we enter the year 2040, we anticipate that Porsche (and other companies) will continue with their innovations and expand their business models to offer more options to more people.
For instance, we think that they will further develop their subscription model and possibly introduce a sharing system as part of the plan.
It is also possible that we will see tiered services as part of different subscription plans. You could choose to unlock 50 extra horsepower for a certain time period by remotely activating the "Porsche RS Plan" for $300 per month. That way, you only use the power when you are planning some track days and don't need to pay for it when you are just using the car for day-to-day activities like going to work.
2040 and Beyond for Porsche
As you can see, we think that Porsche will be alive and well in the year 2040 with even more models than ever and a solid presence in electric vehicles. Their roadmap planning today is likely already taking into consideration many of the topics that we covered here today and we hope that it will produce a similar outcome. For sure, we will not be right with every prediction, but we think that this article will give a fair indication about the direction Porsche and the whole automotive industry is heading.