If you are looking to upgrade your Tacoma with some beefier 265 75R16 sized tires, then check out this in-depth review of the best highway and all-terrain options.
Switching from the smaller stock rubber to the 265 75R16s gives you about a 1 inch increase in overall diameter size, giving you a bit more elevation and overall more bulky aesthetics.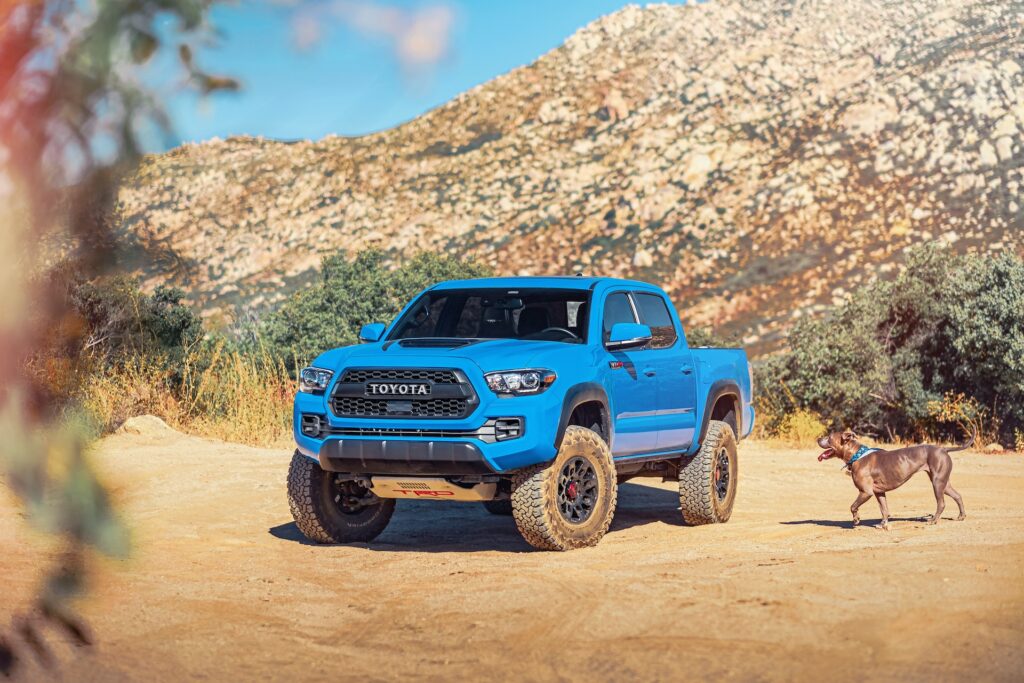 So, we went through all the different options at this size and selected the best choices for every circumstance. Our choices also provide added durability and performance compared to the stock Toyo All Country OEM tires.
We also cross-checked all of the popular Tacoma forums like Tacoma World as well as the Tacoma Reddit community to ensure that our top picks are verified by real-world owners.
Let's take a look at some of the standout choices for 265 75R16 size tires for your Taco.
Please be aware that some of the links mentioned in this article are affiliate links, which means that we will get a small commission if you make a purchase through those links, but it will be no extra cost to you. Thanks for your support!
Comparing 265 75R16 Tacoma Tires – Methodology
First, let's confirm that 265 75R16 tires can fit on your Tacoma. Generally, they will fit on every generation of Tacomas that have stock rims. There is no rubbing and no need for any suspension modifications, as verified by these owner experiences:
1st generation (model years 1995 to 2004):
1st gen Tacoma with 265 75 R16?
265 75 R16 tire pics on a stock gen 1 TRD?
2nd generation (model years 2005 to 2015):
Will 265 75 R16 fit a stock 2nd gen Tacoma?
3rd generation (model years 2016 to present):
265 75 R16 without lift?
265 75 R16s fit stock '21 tacoma with no rubbing
You can also use this tire size calculator on the Tacoma World website to confirm the size difference from your current tires to the 265 75R16s.
We also compared every online tire seller and found that Tire Rack consistently offers the best prices & free shipping (even directly to your installer). They also include:
• FREE 2 year Road Hazard Protection with no-cost roadside assistance
• Tire Replacement Benefit to reimburse you 100% of the price of a damaged tire up to $599 per tire
• Flat Tire Repair Coverage up to $40 per tire
• Mobile Tire Installation Service that can come to your house
• Fast shipping usually in 1 to 2 business days

We've never seen a more generous benefits package from any other retailer, so we added a link to Tire Rack for each tire below.
The Best 265 75R16 Tacoma Tires – Highway All Season
The newly updated Defender series from Michelin continues to deliver world-class performance and durability. They feature Michelin's exclusive "Evertread" compound that helps the tires last longer.
They also ranked 1st out of 52 other highway tires in Tire Rack's latest customer survey, which proves their high quality among real-world owners (especially Tacoma drivers) as well.
---
These Firestones are not far behind the Michelins in terms of quality and performance, as they actually captured 2nd place out of 52 highway tires in the same Tire Rack customer review.
They even received a slightly higher score for their winter and snow performance as well. It also helps that these tires are usually a bit less pricey than the Michelins for pretty much the same level of performance.
---
The Kumho Crugen HT51 is a workhorse type of tire that has proven to excel in virtually every situation. It earned high scores for its dry and wet performance as well as its overall comfort and tread durability.
Owners have even commented how they were able to get 50,000 to 60,000 miles from these tires, which is much more than the stock Toyo All Country OEMs that come with the Tacoma.
---
The Best 265 75R16 Tacoma Tires – On/Off Road All Terrain
This European brand of tires has developed some seriously capable rubber, capturing 1st place in Tire Rack's latest customer survey of 31 all terrain tires.
They are the only tires to score a 9.0 or above in every category, including off-roading, wet and dry performance, and overall comfort.
---
Meanwhile, these Continentals emerged as Tire Rack's top choice in their latest real-world test. They provided the best wet traction and as well as steering feel compared to other all terrain tires.
Overall, they were the most consistent tire in the test and were ranked as Tire Rack's top recommendation.
---
Toyo's premium Open Country tires have received numerous accolades and high ratings from real-world owners. In fact, they earned 3rd place out of 31 all terrain tires according to Tire Rack owners.
Their high performance levels in wet and dry conditions combined with their ultra durability (only the Vredesteins and Toyos earned a treadwear score of 9.0 or above) make them a strong value to consider.
---
The Best 265 75R16 Tacoma Tires – Winter Tires
There is really only one 265 75R16 winter tire we can recommend for the Tacoma, and that would be Firestone's Winterforce 2 UV line.
These tires earned 1st place in their class in Tire Rack's customer survey and scored a 9.0 for both their wet and winter/snow performance.
They also scored an 8.8 for their ride quality, which is extremely high for a winter tire.
The Winterforce 2 UVs are also studdable for those who live in deep snow country.
---
265 75R16 Tacoma Tires – Summary
We hope that our comprehensive review of all the top options for 265 75R16 tires will allow you to find the right fit for your Tacoma.
All of these choices are definite upgrades over the stock tires and will provide enhanced handling, comfort, and longevity.
Also, their prices are all generally in the same range, so it will come down to your personal preference when you select one of them for your next set of tires.
Either way, the 265 75R16 tires are a great look for the Tacoma and there are many satisfied owners who have made the switch.