We found the best sports cars for short drivers that allow you to easily reach the pedals and offer a cozy cockpit with everything within an arm's length.
Not all sports cars are suited for short drivers as there are several issues that may make it less comfortable for someone who isn't that tall. For instance, the car may be designed to have better visibility for taller folks. Also, the buttons on the dash and the pedals may be a few inches too far to access comfortably.
Therefore, we looked for the best sports cars for short drivers that offer a snug interior and good visibility for people of all heights so that you can be confident in your next vehicle.
Best Sports Cars for Short Drivers – Background & Methodology
To determine the ideal choices for short drivers, we looked at the car's front headroom measurements as a gauge of how suitable a car is for shorter people.
Typically, cars that offer a vast amount of headroom also feature buttons and pedals that are spaced further to accommodate taller drivers.
Instead, we looked for cars with less headroom, which is a signal that their whole cockpit is scaled down and better for shorter drivers.
For example, the Ford Explorer SUV offers 40.7 inches of headroom for its front occupants. The whole car is quite massive itself, so it would not be a great choice for a shorter driver.
Even some sports cars are designed with larger folks in mind like the Dodge Challenger, which has 39.3 inches of headroom.
So, we looked for cars with headroom of around 38 inches or less. It turned out that the best sports cars for short drivers were mainly from Japanese and German brands that likely design their cars for a slightly smaller population.
Now, let's take a look at the best sports cars for short drivers using this methodology.
The 10 Best Sports Cars for Short Drivers
10. Toyota Supra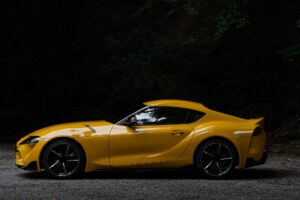 Headroom: 38.3 inches
We start our list of the best sports cars for short drivers with the newly revived Toyota Supra.
This low slung coupe keeps its sporty proportions both inside and out and offers short drivers an easy to access cockpit.
9. Hyundai Veloster
Headroom: 38.1 inches
The Veloster features an airy, yet accessible interior that is well-suited for shorter drivers.
It was designed to be quite sporty, but also a bit versatile so that it can meet the needs of every type of driver.
8. Porsche 911
Headroom: 37.8 inches
The intimate interior of the 911 puts all of its controls right at an arm's length, making it a good choice for smaller drivers.
Its raised center console also ensures that you feel comfortable in this driver-focused cockpit.
7. Ferrari 458
Headroom: 37.5 inches
No list of sports cars can be complete without a Ferrari. We chose the older 458 as it is becoming a bit more affordable and is ideal for shorter drivers.
It features an angled dashboard that makes it easier for the driver to access all the controls and is generally built with sports performance in mind, thus reducing any unnecessary size or length.
6. Lexus LC500
Headroom: 37.2 inches
The luxurious LC500 features a snug interior and some of the best visibility of any car on this list.
It has a large sloping greenhouse that makes the interior feel airy and easy to manage at the same time.
5. Porsche Cayman / Porsche Boxster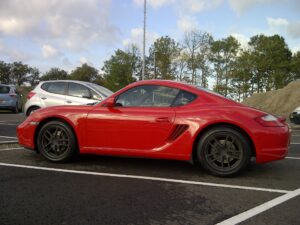 Headroom: 37.8 inches
We think that the Cayman and Boxster are a bit more intimate than their 911 big brother. While the 911 is more of a grand tourer, the Cayman and Boxster are laser focused on delivering a sporty experience.
For comparison, a Cayman is 6 inches narrower than a 911, making it the best Porsche for short drivers.
4. Toyota GR86 / Subaru BRZ
Headroom: 37.1 inches
These sports car twins from Toyota and Subaru were designed to be affordable and focused performance vehicles. As such, they were trimmed of any excess and are some of the best sports cars for short drivers.
Many shorter drivers also note how easy it is to adjust the seat upwards to find a comfortable position in these cars.
3. Audi TT
Headroom: 37.1 inches
The legendary TT is known to be pretty compact, which makes it a strong choice for shorter drivers. In fact, it has one of the smallest interiors on this list.
The TT also has nice little touches like a slightly angled center dash to make things a bit more accessible for shorter arms.
2. Jaguar F-Type
Headroom: 36.8 inches
The F-Type is a modern interpretation of the classic small and intimate British roadsters from the 1950s and 1960s.
The current F-Type actually has the least amount of headroom on this list, which indicates how focused it is towards delivering a compact feeling inside.
1. Mazda Miata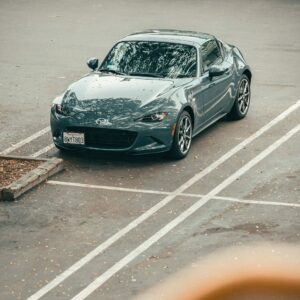 Headroom: 37.4 inches
We think that the best sports car for short drivers is the Mazda Miata. This roadster is truly built with shorter people in mind. Just for comparison, a Dodge Challenger is a full 8 inches wider than the Miata.
To put it another way, the average person could probably reach the passenger door if they leaned over in a Miata. That is not something you can say for many cars these days.
Summary – Best Sports Cars for Short Drivers
We hope you found this research useful as part of your quest to find a sports car that will (literally) fit your needs. Before you make any decisions, be sure to try them all out and play with all of the seat and mirror adjustments.
Each person has a slightly different interpretation of comfort when it comes to cars, so it is important for you to find the right balance by sampling different cars and combinations of settings.
Articles You Might Also Like