We looked through all the data and tests to determine the best tires for Ram 1500 20 inch wheel owners that offer the best blend of performance and value.
20 inch rims can fit on virtually any Ram 1500 dating back to its 2nd generation starting in 1994. They really help to fill in the wheelwells and make the truck look more complete. Of course, they also improve the truck's handling and can help support extra heavy duty work as well.
Therefore, we did all the research to identify the best 20 inch tires for Dodge Ram 1500 trucks that will fit on every year and model 1500 available so that you don't have to do any guesswork to see if they will fit on your truck.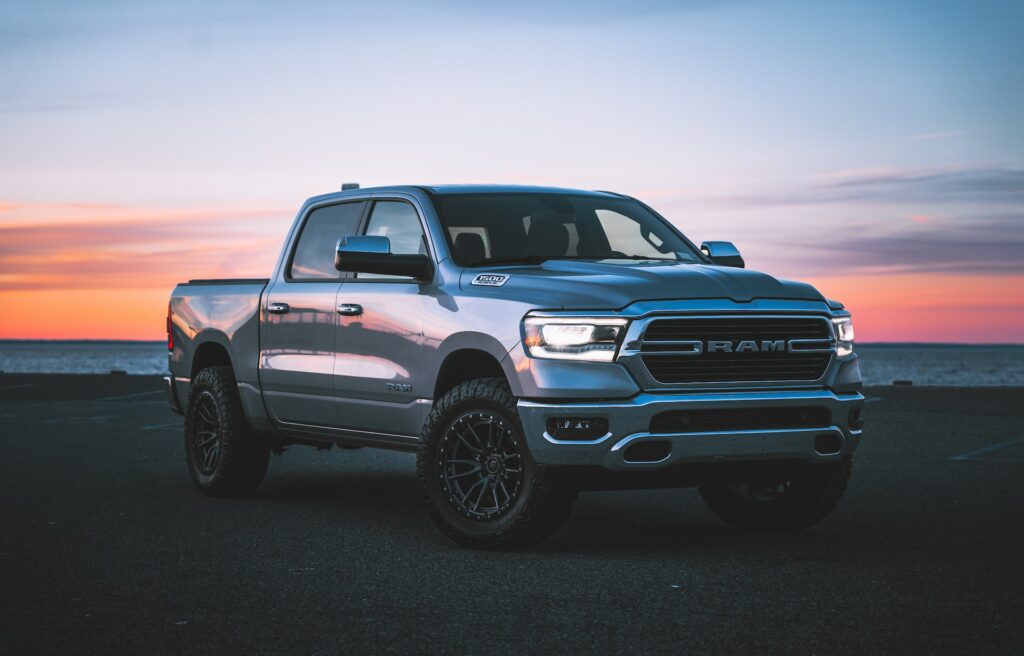 We also double-checked our picks with feedback from real-world owners and online forums like RamForum.com and 5thGenRams.com to confirm that our picks really do perform well over time.
So, let's see what the best tires for the Ram 1500 with 20 inch wheels are.
Please be aware that some of the links mentioned in this article are affiliate links, which means that we will get a small commission if you make a purchase through those links, but it will be no extra cost to you. Thanks for your support!
Best 20 Inch Tires for Dodge Ram 1500 – Methodology
To determine what truly are the "best" tires for the 1500 on 20 inch rims, we first had to outline some criteria to score each tire against. You probably bought a Ram 1500 because of its excellent mix of strong on and off-road performance, long-lasting durability, and overall value compared to other brands.
Therefore, we included the same factors into our evaluation. We looked for tires that deliver class-leading handling and grip on highways as well as on unpaved dirt paths in all seasons.
We also made sure to find tires with strong treadwear performance and provide more miles than the original OEM tires from the factory.
Additionally, we included price and value as a large factor, especially since we found that higher prices do not always correlate with better performance when it comes to the pickup truck tire market.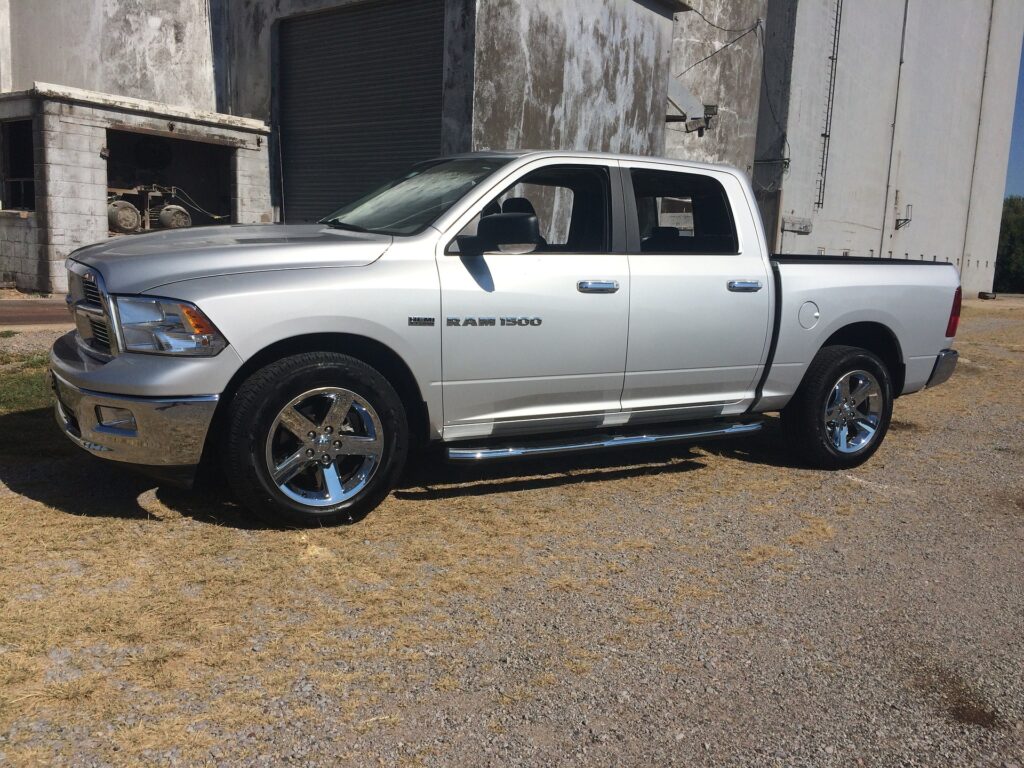 Of course, we took time to also research the specific sizes of each tire to make sure they fit every generation and year of Ram 1500 out there. Here is a breakdown of the exact size of all the factory 20 inch wheels throughout all the years in case you were interested:
1994-2001 – 2nd Generation: 275/60R20
2002-2008 – 3rd Generation: 275/60R20
2009-2018 – 4th Generation: 275/60R20
2019-Present – 5th Generation: 275/55R20
All the tires on our list offer multiple size variations and can be fitted on any year Ram 1500 with 20 inch rims.
Finally, we broke our findings into two categories:
Highway/All-Season Tires
On/Off-Road All-Terrain Tires
We also compared every online tire seller and found that Tire Rack consistently offers the best prices & free shipping (even directly to your installer). They also include:
• FREE 2 year Road Hazard Protection with no-cost roadside assistance
• Tire Replacement Benefit to reimburse you 100% of the price of a damaged tire up to $599 per tire
• Flat Tire Repair Coverage up to $40 per tire
• Mobile Tire Installation Service that can come to your house
• Fast shipping usually in 1 to 2 business days

We've never seen a more generous benefits package from any other retailer, so we added a link to Tire Rack for each tire below.
The 4 Best 20 Inch Tires for Dodge Ram 1500
Highway/All-Season Tires
If you are looking for a workhorse tire for every season, then we think the Pirelli Scorpion AS Plus 3 tires are the best all season tires for Ram 1500 20 inch wheels.
They were impressively ranked 1st out of 50 "All-season Touring Tires" on Tire Rack's latest survey and topped the charts with the best dry, wet, and snow performance as well as ride quality and durability.
It is quite rare to find a tire that can excel in all of those categories, but the Pirellis managed to do so, all for a decent price as well.
On top of that, Pirelli offers a generous 70,000 Mile / unlimited time treadwear warranty on these tires, which shows how strongly they back the quality of their products.
---
Michelin's top-of-the-line Defender tires are the perfect blend of comfort and performance for those looking for the best highway tire capable for all seasons.
They were developed with durability in mind, and this latest generation of their Defender line offers improved wear life for all of the high-torque output of modern trucks.
The numbers don't lie either, as their strong efforts have resulted in 1st place out of 52 "Highway All-Season Tires" that Tire Rack reviewed in their customer survey.
They earned the highest scores in their class for off-road ability, dry, wet, and snow performance, road noise and ride quality, and overall treadwear over 22 million miles of reviews.
That makes them another top choice for the best all season tires for Ram 1500 20 inch rim trucks.
Michelin also backs them with a 6 Year / 70,000 Mile treadwear warranty.
---
On/Off-Road All-Terrain Tires
This specialty European brand is certainly making a name for itself as they have produced one of the best all-around on/off road tires that we have ever evaluated.
Their secret is that they develop their tires with sophisticated computer-aided designs, which help them perform better than many well-known brands.
As a result, these tires were ranked 1st out of 33 "On-/Off-Road All-Terrain Tires" in Tire Rack's customer survey and were the only tire that received an "excellent" score in every single category, including off-road traction, dry, wet, and snow performance, overall comfort, and treadwear.
That helped them beat out big names like Continental, Firestone, and Goodyear in the all-terrain category, despite being priced about 10-20% cheaper.
Additionally, Vredestein offers an 8 Year / 70,000 Mile treadwear warranty.
If you frequently take your Ram 1500 off-road and want the best bang for your buck, then these tires cannot be beat.
---
These Cooper tires were not very far behind the Vredesteins and picked up 4th place out of 33 "On-/Off-Road All-Terrain Tires" in the Tire Rack survey.
They were even rated as having the best dry handling overall and tied the leaders for their off-roading capabilities.
Tire Rack also ran a comparison test with these tires and noted that they featured the best noise comfort and wet traction as well.
Finally, Cooper offers a 6 Year / 65,000 Mile treadwear warranty on these extremely capable on/off road tires that are made in the USA.
---
Best Tires for Ram 1500 20 Inch – Summary
Whether you are looking for an all-season highway tire or a rugged all-terrain tire, we think that this list of the best 20 inch tires for Dodge Ram 1500 owners truly showcases the top options on the market.