Want to know what are the best tires for Mk7 GTI models from 2015 to 2021? We looked through all the ratings and reviews to determine the top choices.
We have heard numerous complaints about the stock tires that come with the Golf Mk7 GTI, so we looked at all the different alternatives that are available to upgrade the performance, handling, and ride of your Mk7 GTI.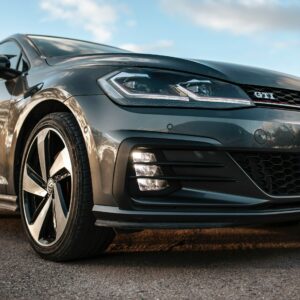 Every Mk7 GTI rides on stock 18 inch, 225/40 wheels, so we made sure to only find tires that fit this setup.
We also looked for tires for every season in case you are looking for dedicated summer tires, winter tires, or all-season tires depending on your geographical location and preferences.
The Mk7 GTI represents the sweet spot of performance, practicality, and affordability, so your tires should allow it to operate at its optimal level. So, here are the best tires for Mk7 GTI owners so that you can order your next set of rubber today.
Please be aware that some of the links mentioned in this article are affiliate links, which means that we will get a small commission if you make a purchase through those links, but it will be no extra cost to you. Thanks for your support!
We also compared every online tire seller and found that Tire Rack consistently offers the best prices & free shipping (even directly to your installer). They also include:
• FREE 2 year Road Hazard Protection with no-cost roadside assistance
• Tire Replacement Benefit to reimburse you 100% of the price of a damaged tire up to $599 per tire
• Flat Tire Repair Coverage up to $40 per tire
• Mobile Tire Installation Service that can come to your house
• Fast shipping usually in 1 to 2 business days

We've never seen a more generous benefits package from any other retailer, so we added a link to Tire Rack for each tire below.
Best Tires for Mk7 GTI – All-Season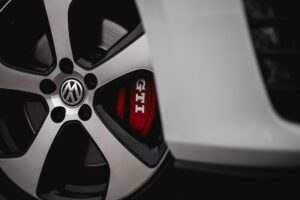 These Michelins are the ultimate grand-touring tires that are capable of handling every season.
They even earned 1st place out of 58 different grand-touring all-season tires based on the rankings by actual owners in the latest customer survey.
Overall, they scored an excellent rating in virtually every category, including wet and dry performance, comfort, and treadwear.
---
The Continental ExtremeContact series is the ideal all-season tire for those looking for a sportier tire as they are rated in the "ultra high performance" category.
If you drive a bit more aggressively, but still want one tire year-round, then these Continentals cannot be beat.
They also scored 1st in their category versus 28 other ultra high performance all-season tires in the latest customer survey and are perfectly suited for spirited driving in a car like the GTI.
---
Best Tires for Mk7 GTI – Summer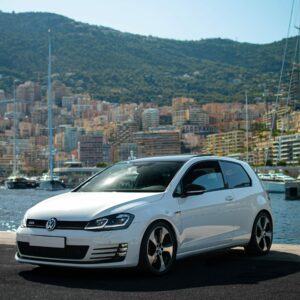 When it comes to summer tires, the Pilot Sport series is the tire of choice for driving enthusiasts across the globe.
They provide some of the sharpest steering feedback, handling, and road feel out of any tire on the market.
Additionally, they took 1st place out of 34 max performance summer tires as rated by customers, making them one of the best tires for Mk7 GTI owners looking for ultimate performance.
---
Firestone's Firehawk lineup is an extremely capable and affordable summer tire for the Mk7 GTI. Their race-inspired tread design provides excellent handling and grip that is unmatched at this price point.
They were even ranked 1st out of 8 tires in the Ultra High Performance Summer Tire category according to the latest tire survey.
---
Best Tires for Mk7 GTI – Winter
This European brand has perfected the winter tire, especially for the GTI, since they were developed with sports cars in mind.
The Wintrac Pros were engineered with advanced computer modeling technology that allows them to perform brilliantly in snowy and icy conditions.
Owners also praise their ride quality, which is usually not so great among snow tires.
Overall, they ranked 1st out of 9 Performance Winter / Snow Tires based on the latest customer survey.
---
The Blizzak name is a well-respected brand in the winter tire market and is a great option for the GTI.
They offer responsive steering and performance even when the conditions are poor outside.
Customers seem to like them as the Blizzak WS90 was rated #1 out of 7 studless ice and snow tires as rated by customers.
---
Best Tires for Mk7 GTI – Summary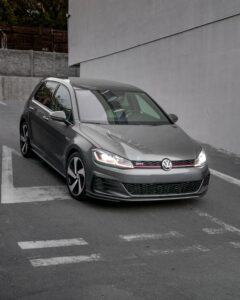 We are confident that any choice on this list of the best tires for Mk7 GTI models will be an instant upgrade over the OEM tires and will let you truly unlock the potential of your GTI.
They all offer responsive handling, strong performance in different weather conditions, top notch ride quality, and long-term durability.
There really is no wrong choice here, as it will just depend on your preference for usage and the amount of performance that you want from your next tires.
Either way, we are sure that your GTI will feel like a new car on one of these tire options.
Articles You Might Also Like