We checked all the data and real-world feedback to find the quietest tires for Hyundai Santa Fe owners. New tires can reduce road noise and improve comfort so that you can have a more relaxing commute and actually hear your music or calls clearly.
We made sure to cross-reference our choices with the opinions and ratings from many different sources, including actual Santa Fe owners.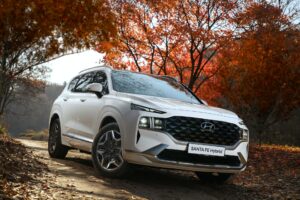 For instance, we looked through all of the owner experiences on the popular Hyundai-Forums.com and SantaFeForums.com message boards as well as real-world reviews from actual Santa Fe owners.
We also included options for every budget, ranging from the high-end from major brands like Michelin and Pirelli to some top value picks as well.
But, not all tires are designed to be very quiet despite their price, so we made sure to find the ones that truly offered low levels of road noise and a smooth ride so that you can enjoy your Santa Fe.
So, let's see what the quietest tires for Hyundai Santa Fe SUVs are.
Please be aware that some of the links mentioned in this article are affiliate links, which means that we will get a small commission if you make a purchase through those links, but it will be no extra cost to you. Thanks for your support!
Quietest Tires for Hyundai Santa Fe – Methodology
Before we get into our top choices for the quietest tires for Hyundai Santa Fe drivers, we wanted to give you some insight on how we came to our results.
First, we focused on finding the best tires for the latest Santa Fe models. That includes the two newest generations from model years 2013 until the present, which coincidentally all share the same wheel sizes.
To find the quietest tires, we only looked for tires that had a high side profile and stayed away from lower profile options. Generally, lower profile tires have shorter sidewalls, which can lead to more road noise and a stiffer ride overall.
So, we only looked for tires that were at least a 60 rating for their profile percentage versus the tread width.
Finally, we needed to know how the stock tires perform so that we could establish a baseline to measure against.
The OEM tires for recent Hyundai Santa Fes have been the Kumho Crugen Premium and the Hankook Dynapro HP2. These two tires have generally not been highly regarded and generate quite a bit of noise.
In fact, the stock Kumhos were ranked 22 out of 38 tires in the latest customer survey, while the Hankooks fared even worse, coming in 27th out of 38 SUV tires.
We also compared every online tire seller and found that Tire Rack consistently offers the best prices & free shipping (even directly to your installer). They also include:
• FREE 2 year Road Hazard Protection with no-cost roadside assistance
• Tire Replacement Benefit to reimburse you 100% of the price of a damaged tire up to $599 per tire
• Flat Tire Repair Coverage up to $40 per tire
• Mobile Tire Installation Service that can come to your house
• Fast shipping usually in 1 to 2 business days

We've never seen a more generous benefits package from any other retailer, so we added a link to Tire Rack for each tire below.
The 4 Quietest Tires for Hyundai Santa Fe
We found that these Pirellis are the quietest tires for Hyundai Santa Fe owners on the market today. They earned the highest scores for noise and ride quality out of any tire in the latest customer survey in the SUV category for all-season touring tires.
In fact, they were the only tire to score above a 9.0 in both categories, earning a class-leading 9.4 rating for noise and a 9.4 for ride quality.
Many Santa Fe owners who made the switch to these Pirellis noted how much quieter they are compared to the OEM tires. They even commented on the improved steering response and the overall smoothness of this set of rubber. They also mentioned how compliant they are over bumps and potholes.
One person even commented that these new Pirellis seem to lower road noise by about 2-5 decibels, which is quite a big difference.
Pirelli says that these tires were built with US drivers in mind and they focused their development on improving the ride comfort and reducing road noise.
These tires were also engineered to provide more mileage than previous generations of tires, which makes them a good bang for your buck and a great choice for outfitting your Hyundai Santa Fe with the quietest tires.
They are also rated for all seasons and have been engineered to handle light snow as Pirelli has used new compounds and created a larger footprint to make them more sure-footed in wet conditions.
---
Continental's CrossContact LX25 line is rated just about as well as the Pirelli Scorpion Verdes. After 1.4 million miles of use, owners rated these CrossContacts with a 8.8 for noise and a 9.0 for ride quality.
They offer a luxurious ride with their exclusive "Comfort Ride Technology" that adds an absorption layer below the tread. There are also "continuous circumferential ribs" that are supposed to help lower the noise from the treads.
These Continentals are also all-season tires and are even rated slightly better for winter conditions than the Pirelli Scorpion Verdes.
Their strong performance and low tire noise makes them one of the best choices for the quietest tires for Hyundai Santa Fe owners.
---
The Michelin CrossClimate tires might be the best overall solution for those seeking quietness and all-weather performance from their Hyundai Santa Fe.
These tires are not far behind the other two in terms of their noise rating. In fact, surveyed owners gave these Michelins an 8.7 for noise and a 9.1 for ride quality.
It is even rated as the #1 overall all-season SUV tire out of 38 options.
It was able to gain first place by having the highest individual scores out of any tire in dry, wet, and winter performance.
It is also one of the sportier tires on this list, so it can be a great choice for those looking for performance and quietness at the same time.
---
Cooper has been making solid and dependable tires for the entry-level market for years now and the Endeavor Plus line is no exception.
Owners even ranked it as the best entry-level touring tire for SUVs and crossovers. It delivered a smooth ride quality and had the best wet traction of any entry-level tire in their test.
They also noted how cushioned the ride felt and that tire noise was satisfactory overall.
The Cooper Endeavor Plus are rated "excellent" for their ride quality and noise.
---
Summary – Quietest Tires for Hyundai Santa Fe
We hope that this list of the quietest tires for the Hyundai Santa Fe will help you understand what makes a tire quiet and which ones are the best choice for your Santa Fe.
You really can't go wrong with any of the choices on this list and we are confident that any option here will be much quieter than the original tires that came with the car.
Articles You Might Also Like